Extruded Tubes, Rods suit medical, aerospace applications.
Press Release Summary: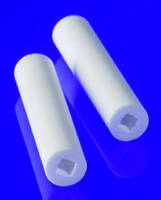 Made in various sizes and tolerances to meet requirements, extruded micro-sized rods and tubes are available in high-purity Alumina and Steatite to accommodate needs of medical, aerospace, and electronic applications. ODs of extruded rod range from .025-.400 in., and available geometries include solid rod, single-hole, or multi-hole. Rods and tubes extruded from 96%-99.8% pure Alumina provide insulating properties for use in temperatures to 3,200°F and corrosive environments.
---
Original Press Release:

Morgan Technical Ceramics Now Produces Micro-Sized Extruded Tubes and Rods Ideal for High Volume Medical and Aerospace Applications



Morgan Technical Ceramics (MTC) announced that its Latrobe, PA-based manufacturing site has expanded its capabilities and can now produce extruded micro-sized rods and tubes in high purity Alumina and Steatite. The rods and tubes are widely used in medical, aerospace and electronic applications. The extrusion process can deliver a high volume of intricate parts in a short lead time that are extremely cost-effective compared to components produced by traditional machining.

MTC's state-of-the-art vertical hydraulic piston extruder allows rods and tubes to be made in a variety of sizes and tolerances to meet customer requirements. The outer dimensions of the extruded rod range from .025-inch to .400-inch and can be a solid rod, single-hole or multi-hole geometry. Lengths can be significantly longer than those obtained through a pressing process.

Rods and tubes extruded from 96% to 99.8% pure Alumina provide excellent insulating properties for use in extreme temperatures and corrosive environments. Those made from 99.8% pure Alumina are especially well suited for aerospace applications where there are stringent trace element certification requirements. The material can withstand temperatures up to 3200 F°.

Steatite ceramic has reasonable heat shock qualities and good electrical insulation. With good mechanical and insulation qualities, extruded Steatite tubes and rods are ideal for resistor tubes, surge arrestors, standoffs, spacers, terminal blocks and bushings.

"We expanded our capabilities to produce extruded parts in response to our customers' need for a cost effective way of producing extremely small parts at high volume," said Sharon Johnson, MTC GBC Material's general manager. "With our expanded extrusion capabilities, we can now produce small notched rods used in the production of ceramic cores in the aerospace market, custom tubing for medical instruments and measuring apparatus, and a range of resistor tubes, capacitor sleeves, insulating tubes, bushings and thermocouple tubes for the electrical market."

For further information, please contact:

Kristin Nugent, 617-367-0100 x148
kristin.nugent@mgr1.com

Lorraine Henry, Tel +44 (0)1299 872217
lorraine.henry@morganplc.com

About Morgan Technical Ceramics
Morgan Technical Ceramics manufactures components and sub-assemblies using an extensive range of materials, including structural and piezoelectric ceramics, dielectrics, braze alloys, and specialist coatings. It works with manufacturers' design and R&D teams at local, national and international level on projects from concept and feasibility studies through prototype development to full production. The business employs some 2,500 people and has 23 manufacturing sites worldwide across Europe, the US, Mexico, China and Australia.

Morgan Technical Ceramics is a business within the Morgan Ceramics Division of The Morgan Crucible Company plc, one of the world's leading advanced materials companies. The company specialises in the design, manufacture and marketing of ceramic and carbon products which are used in a wide range of applications, from transport and telecommunications to fire protection and medical instruments. Morgan Crucible is listed on the London Stock Exchange in the engineering sector.

For more information on Morgan Technical Ceramics visit www.morgantechnicalceramics.com or contact one of our sales offices below:

Europe
Morgan Technical Ceramics, Bewdley Road, Stourport, Worcestershire, DY13 8QR.
Tel +44 (0)1299 872210 Fax +44 (0)1299 872218
Email mtcuksales@morganplc.com

North America
Morgan Technical Ceramics, 26 Madison Road, Fairfield, NJ 07004, USA
Tel +1 800 433 0638 Fax: +1 973 227 7135
Email mtcussales@morganplc.com

Asia
Morgan Technical Ceramics, Dingshu Town, Yixing City 214221, Jiangsu Province, P.R. China
Tel +86 21 59 90 61 39 Fax +86 21 59 90 61 27
Email mtccnsales@morganplc.com

Related