EXTRUDE HONE Corporation to Exhibit New Electrolytic Machine at the WESTEC 2006 Exposition and Conference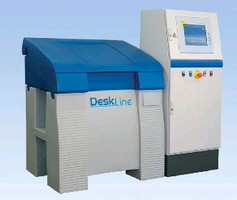 Irwin, Pa. (March 10, 2006)-EXTRUDE HONE® Corporation announced today plans
to exhibit its new DeskLine(TM) machine, which features its Electrolytic Machining (ECM)
process, at the WESTEC 2006 Exposition and Conference in Los Angeles, Calif., from
March 27 - 30, 2006. Extrude Hone representatives will be available at booth #2412 to
discuss this latest addition to the company's innovative line of advanced finishing and
deburring technologies.

With the entry-level DeskLine machine, Extrude Hone offers customers all the innovation
and feature-rich capabilities inherent in its larger ECM machines. In addition, it's priced well under the annual costs of manual deburring operations, making the DeskLine
machine an affordable automated solution for many manufacturers.

Compared to manual deburring, which is proven to be tedious, unreliable, time-
consuming, and costly for large and small companies alike, Extrude Hone's DeskLine
machine boosts productivity substantially. In fact, it is capable of increasing productivity levels by up to 10 times over labor-intensive manual deburring methods. TypicalDeskLine cycle times range from 10 seconds to 30 seconds.

While a smaller-scale machine designed for lower production volumes, the DeskLine
is uncompromising in its ECM precision, reliability, and performance. A metal dissolution process, ECM uses a safe, low voltage DC electrical current applied to the tooling and workpiece while flowing an electrolyte between both surfaces to dissolve unwanted metal. The DeskLine machine works with part-specific tooling that precision deburrs equally well on both external and internal surfaces, and particularly difficult to access internal hole intersections.

The DeskLine machine capacity is rated at 3 kW (100 A/30 V), more than twice the
capacity of Extrude Hone's Miniburr product line, yet it is compact enough to fit within a 63-inch x 32-inch (1600mm x 800mm) footprint.

WESTEC attendees are encouraged to stop by booth #2412 to learn more about the
DeskLine machine and the entire ECM product line, as well as Extrude Hone's other
surface finishing and deburring technologies.

About EXTRUDE HONE® Corporation
Extrude Hone Corporation, located in Irwin, Pennsylvania, defined a new level of quality and control for manufacturers worldwide when in 1966 the company invented and
patented the Abrasive Flow Machining (AFM) process-a new and revolutionary method
to deburr, polish, and radius difficult-to-reach surfaces. Today, Extrude Hone is a
leading developer and supplier of advanced manufacturing processes, machine tools,
and contract machining services for deburring, polishing, surface finishing, and edge
conditioning. Extrude Hone is also a major provider of engineered finishing solutions to the automotive, aerospace, fluid power, food processing, semiconductor, medical, and
mold and die industries worldwide. The company provides these technologies to industry
in the form of capital equipment and contract job shop services through their direct
sales force and global network of Contract Service Centers. Extrude Hone Corporation
is a subsidiary of Kennametal Inc. Visit us at www.extrudehone.com.

About WESTEC
As North America's largest annual manufacturing and metalworking event, WESTEC
features the latest in manufacturing equipment and emerging technologies. With more
than 600 industry-leading companies in attendance, the WESTEC conference showcases
equipment and tooling manufacturers, regional distributors, technology products
and supplier services from 150 categories, representing 2,500 international product
lines. WESTEC is sponsored by the Society of Manufacturing Engineers, in conjunction
with the American Machine Tool Distributors' Association and the Association for Manufacturing Technology. For more information, visit http://www.sme.org/westec.

Related