Extreme Duty LED Light Bar offers dual color output.
Press Release Summary: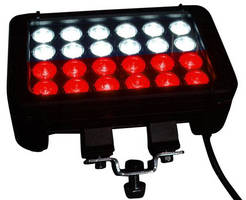 Supplied in IP68 waterproof housing with heavy-duty aluminum construction and unbreakable polycarbonate lens, LEDLB-24-VISRED features 4 rows of CREE LEDs:  2 rows that produce white light and 2 rows that produce red. Light bar can be wired through multi-position switch that will let operators toggle between red or white output or run combination of both. LEDs have 50,000+ hr operational life and produce 4,000+ lm while drawing 72 W at 6 A from 12 V electrical system.
---
Original Press Release:

Larson Electronics Releases Extreme Duty LED Light with Dual Color Output



Kemp, TX -- Larson Electronics has announced the release of an extreme duty LED light bar designed to provide high performance in demanding conditions as well as a choice of either red or blue light output. The LEDLB-24-VISRED LED Light Bar features IP68 waterproof rated heavy duty aluminum construction and four rows of CREE LEDs for high output and dual color capability.



The Larson Electronics LEDLB-24-VISRED LED light bar is a high performance LED light designed for use in extreme environments and capable of producing high intensity light output in white or red colors or a combination of both. Featuring four rows of LED emitters, two rows producing white light and two rows producing red, these light bars are ideal for law enforcement, security, and hunting applications where colored light is often desired. These high output LED lights are fitted with dual pigtails with Deutsch connectors to provide secure wiring connections and have an IP68 rated waterproof housing and unbreakable polycarbonate lens to withstand abusive weather conditions and handling. These dual color LED lights can be wired through a multi-position switch which will allow operators to toggle between red or white output, or run a combination of both colors if desired. The Cree LEDs used in these units provide over 50,000 hours of operational life and high power output that surpasses that of comparable halogen lights while using less power. Since these lights are LED, they draw far less current than incandescent lamps and produce over 4,000 lumens while drawing only 72 watts at 6 amps from a 12 volt electrical system. The LEDLB-24-VISRED can withstand rapid temperature changes of -40 degrees Celsius to 85 degrees Celsius and submersion up to 3 meters, making it fully waterproof and protected against the damaging effects of driving rain and extreme environments. The internal LED drivers automatically sense and adjust the incoming electrical current, allowing operators to connect these powerful lights to any source of 9 to 32 volt dc current without the need for an external transformer. These units also actively monitor heat and adjust the duty cycle of the current fed to the LEDs, resulting in maximum output while reducing heat buildup, thus improving overall performance and the longevity of the Cree LEDs. Mounting for these LED light bars is through included U-brackets with stainless steel hardware and a single mounting stud. This mounting system provides secure placement and allows operators to adjust vertical angle once the unit is positioned. These dual color LED lights provide the functionality of two lights in one package and are ideal for applications where operators often need to provide red illumination as well as general purpose white illumination.



"The LEDLB-24-VISRED enables operators to take advantage of the red light's natural 'low light operation' capability and bright white light when covert conditions are not necessary," said Rob Bresnahan with LarsonElectronics.com.  "By combining them into a single LED light array with separate power input, we can simplify installation for OEMs that need to provide these disparate lighting scenarios on military vehicles."



Larson Electronics produces a full range of industrial and commercial lighting equipment, LED work lights, portable LED lights, LED light towers, and LED boat lights. To view the entire Larson Electronics line of industrial grade lighting solutions, visit them on the web at Larsonelectronics.com. You can also call 1-800-369-6671 to learn more about all of Larson Electronics' lighting products or call 1-214-616-6180 for international inquires.

More from Machinery & Machining Tools