Extio 3 IP KVM Extender provides 4K60 4:4:4 video.
Press Release Summary: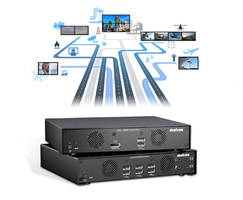 Used in process control rooms, dispatch centers, healthcare, military, transportation applications, Extio 3 IP KVM Extender provides desktop-quality video at 5% of the bandwidth. Supporting DisplayPort 1.2 connectivity with 3840 x 2160 maximum resolution at 60Hz frequency, unit helps in fast decision making, information sharing and intuitive collaboration.
---
Original Press Release:
Matrox Announces New IP KVM Technology
Matrox expands their KVM product line by introducing Extio 3, the world's first low-bitrate 4K60 KVM-over-IP extender
Matrox® today announced the Matrox Extio 3, the world's first IP KVM product supporting 4K60 4:4:4 video, keyboard, and mouse, as well as USB 2.0 and audio at low bit rates over standard Gigabit Ethernet. Complementing the current Matrox Extio and Avio product lines, the Extio 3 advances Matrox's offerings in high-performance KVM products for knowledge workers.
Through revolutionary technology, the Extio 3 is capable of providing 4K60 4:4:4, desktop-quality video at 5% of the bandwidth required by most other solutions available in the market today. With exceptional remote performance, smooth video playback, and pristine image quality, Extio 3 supports DisplayPort 1.2 connectivity with a maximum resolution of 3840x2160@60Hz in true color.
Designed to ease integration and provide operational flexibility for information sharing, fast decision making, and intuitive collaboration, Matrox Extio 3 is poised to be a game-changer in process control rooms, dispatch centers, as well as network operation centers in healthcare, military, transportation, and broadcast.
"We know our customers are looking for a secure, reliable KVM experience," said Caroline Injoyan, business development manager, Matrox Graphics Inc. "Leveraging existing IP infrastructures, the Extio 3 allows any crucial systems to be placed and managed from secured remote locations, and controlled from a distance."
Readily compatible with existing network infrastructure, Extio 3 offers flexible deployment options; supporting both standard copper and fiber optic cabling. Integrable as a either a point-to-point or networked KVM extender, this new product creates a scalable and cost-effective KVM matrix switching environment using networks available.
"With the flexibility offered by an IP-enabled KVM, our customers will have the ability to seamlessly collaborate and work with more systems, moving information from an operator screen to a central video wall or mobile devices, and creating more efficient workflows," said Injoyan.
Availability
Matrox will be showcasing Extio 3 for the first time at Hannover Messe 2017 (Hannover, April 24-28, Hall 11, Stand B65), along with their complete line of KVM Extenders and display controller products, including their latest AV-over-IP encoders and decoders and graphics cards.
About Matrox Graphics Inc.
Matrox Graphics is a global manufacturer of reliable, high-quality ASICs, boards, appliances, and software. Backed by in-house design expertise and dedicated customer support, Matrox products deliver stellar capture, extension, distribution, and display. Engineering high-quality products since 1976, Matrox technology is trusted by professionals and partners worldwide. Matrox is a privately held company headquartered in Montreal, Canada. For more information, visit www.matrox.com/graphics.
Matrox Media Contact:
Myles Carter
Email: pr@matrox.com
Tel: +1 (514) 822-6000 ext. 2046
More from Packaging Products & Equipment