External Upgrade Device adds multi-display support.
Press Release Summary: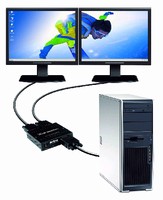 When connected to monitor connector of computer, DualHead2Go(TM) adds support for extra monitor. Device divides monitor output from computer into 2 separate displays, one showing left half of monitor and other showing right half. Unlike installing graphics card, DualHead2Go setup does not require opening computer, inserting parts into it, or replacing hardware or software. It uses computer's existing graphics hardware and software for 2D, 3D, and video acceleration.
---
Original Press Release:


Matrox DualHead2Go Offers Completely New Way to Add Multi-Display Support




Montreal, Canada, November 8, 2005 -- Matrox Graphics Inc. introduces DualHead2Go(TM), the world's first multi-display upgrade of its type.

This easy-to-setup external device connects to the monitor connector of a computer and adds support for an extra monitor. The operating system treats DualHead2Go like a monitor supporting resolutions twice as wide as standard resolutions and DualHead2Go uses Matrox patent-pending technology to divide the monitor output from the computer into 2 separate displays, one showing the left half of this "monitor" and the other showing the right half.

"Because DualHead2Go is an external upgrade, it's ideal for adding an extra display to a closed, already validated, mission-critical system or to computers with no available expansion slots," says Samuel Recine, Product Manager, Matrox Graphics Inc. "This includes laptops, ultra-small form factor PCs, certain thin clients, and certain embedded systems."

Unlike installing a new graphics card, the DualHead2Go setup doesn't require opening a computer, inserting parts into it, or replacing any hardware or software. This multi-display solution uses a computer's existing graphics hardware and software for 2D, 3D, and video acceleration. By helping to manage more information, Matrox multi-display technology can improve productivity and reduce errors.

DualHead2Go includes support for Microsoft(R) Windows(R) 2000 and Windows XP, and is compatible with a wide range of laptops and with certain other systems. The latest list of known compatible and incompatible systems is available at the Matrox website. For more information on this and other Matrox products, see:
http://www.matrox.com/mga/workstation/3dws/products/home.cfm

Pricing and availability -- Matrox DualHead2Go is available now at a list price of $169 (USD). This product can be purchased from authorized Matrox resellers worldwide or, in North America and Europe, directly from Matrox at shopmatrox.com. For more information, call Matrox Sales at 1-800-361-1408 (North America) or e-mail technicalsales@matrox.com.

About Matrox Graphics Inc. -- Matrox Graphics Inc. is the leading manufacturer of graphics solutions for professionals and has been delivering high-quality, innovative 2D/3D and video graphics accelerators for more than a quarter century. Creator of the multi-display phenomenon, Matrox combines its proven graphics chip designs, reliable software development and dependable card manufacturing expertise to produce products that are reputed worldwide for their superior image quality, practical ingenuity and unwavering stability.

Matrox Graphics designs and supports graphics solutions optimized for utility, empowering professionals to see more and do more. A privately held company headquartered in Montreal, Canada, Matrox has international offices in the United States, the United Kingdom, Ireland, Germany, Italy and Hong Kong. For more information, visit http://www.matrox.com/graphics.

Matrox(R), DualHead(R), and DualHead2Go(TM) are trademarks or registered trademarks of Matrox Graphics Inc. and/or Matrox Electronic Systems Ltd.
Other company, product and service names and/or logos indicated above may be trademarks or service marks of such other companies.


Related