External Power Supplies come in wall-mount and desk-top styles.
Press Release Summary: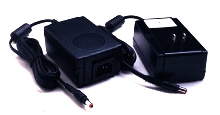 CE-compliant PW125 universal switch-mode power supplies are available from 21 to 48 W. Nine models range from 3 to 48 V with input voltage of 100 to 250 Vac. Desk-top models measure 3.92 in. L x 2.58 in. W x 1.61 in. H. Wall-mount models measure 1.61 in. long x 2.58 in. wide x 3.92 in. high. Power suppies have TUV EN60950, UL/C-Ulus 1950, Australian Approval and MITI safety approval ratings.
---
Original Press Release:
AULT INCORPORATED ANNOUNCES 21-48-WATT EXTERNAL POWER SUPPLY SERIES

MINNEAPOLIS - May 6, 2002 - Ault Incorporated, a leading North American manufacturer of external power conversion products (Nasdaq: AULT), today announced the introduction of its new 21-48-watt universal switch-mode power supply family, the PW125.

The CE-compliant, desktop- and wallmount-style PW125 power supply is available in nine models, ranging from 3 to 48 volts with input voltage of 100VAC to 250VAC. Users may choose from four configurations: universal desktop with IEC320 connector, and three wallmount configurations specific to the North
American/Japanese, Continental European, and United Kingdom markets.

The PW125 desktop model measures 3.92 (L) x 2.58 (W) x 1.61 (H) inches (99.6 (L) x 65.5 (W) x 41.0 (H) millimeters) and the wallmount models measure 1.61 (L) x 2.58 (W) x 3.92 (H) inches (41.0 (L) x 65.5 (W) x 99.6 (H) millimeters). To reduce product design-to-safety approval cycle time, the PW125 family has TUV
EN60950, UL/C-Ulus 1950, Australian Approval and MITI safety approval ratings.

The product will be priced based on volume requirements and desired customer modifications.

The PW125 family meets the needs of OEMs in a broad range of applications in the data communications and computer peripherals market segments.

"Ault has responded to its customers with the release of the PW125," explained Greg Harris, Ault's vice president, business development. "The PW125 family will meet the rigid reliability requirements and high performance expectations of our OEM customers in a price range that is competitive with less robust
competitive switch-mode power supplies."

Ault is the largest independent manufacturer of power conversion products based in North America. The company is the leading supplier to OEMs in the datacom/telecom convergence market, which includes DSL and cable modems, wireline and wireless communications equipment, medical equipment and networking hardware.

For more information, contact Ault Inc., 7105 Northland Terrace, Minneapolis, Minn., 55428. Tel: 763.592.1900. Fax: 763.592.1911. Email: info@aultinc.com. Web: aultinc.com.
More from Communication Systems & Equipment