Exterior Sun Protection, Interior Benefits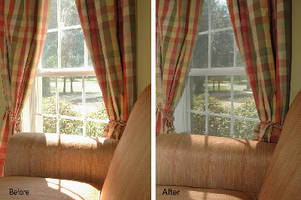 TUSCALOOSA, Ala., – Looking for a way to make your home cooler and more comfortable AND reduce your energy bill? The answer lies in a simple switch – shade from the outside and feel the difference inside with Phifer's Exterior Sun Control Products installed on the window.



Unlike window films or glass coatings, Phifer's Exterior Sun Control Products block the sun's heat and glare before it hits the window and can be installed like standard insect screening. These products block 65 to 90 percent of solar heat and harsh glare before it enters the glass, resulting in a more comfortable indoor temperature, more efficient air conditioning and less energy consumption.



Sun control screens work with the window open or closed, offer daytime privacy and even help reduce the fading of drapes and furniture. These screens also allow outward visibility and provide insect protection.



Phifer's exterior shading fabrics are woven with either fiberglass or vinyl-coated polyester yarns and are offered in a multitude of widths and 100-foot length rolls in a range of complementary neutral colors. 

    

For more information on Phifer's Exterior Sun Control Products and to view the complete line, visit www.phifer.com or call 205-345-2120. 



A master weaver with more than 60 years of experience and a forward-thinking mentality, Phifer is the world leader in the production of interior and exterior sun protection fabrics, cutting-edge, specialty screen products for windows and doors, stock/custom engineered mesh and textile products and high performance outdoor designer fabrics.

More from Communication Systems & Equipment