Extensive New Line of Industrial Pneumatic Tools Announced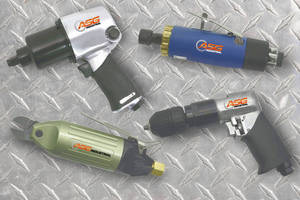 Products for Fastening, Cutting, Finishing and Tool Storage

CLEVELAND, OH- December 12, 2008- ASG Industrial (asg-jergens.com/asgindustrial), a division of Jergens, Inc., has announced an extensive air tool program for a wide range of industrial applications. The products include CE-certified industrial pneumatic tools for fastening, cutting, finishing and tool storage.

Among fastening-related items are pulse tools, impact wrenches, air ratchets, air hydraulic riveters, blind rivet fasteners and cordless ratchet and impact tools.

Abrasive-related products include air grinders, vacuum sanders, air die grinders and cordless drills. Also offered is a complete assortment of air hose and fitting items, including filters, regulators, lubricators, fittings, couplers, plugs, tube and hose.

ASG Industrial is a new division of Jergens, Inc., specializing in pneumatic products. It joins the long-standing ASG Products for Assembly division of Jergens, which has specialized in electric torque controlled drivers, torque testers and other assembly production equipment for over 35 years, and is ISO:9001 certified.

ASG Industrial is located at 15700 South Waterloo Road, Cleveland, OH 44110-3898. Telephone (216) 486-6163 Fax: (216)-481-4519 E-mail: jaci.schill@asg-jergensinc.com Web: asg-jergens.com/asgindustrial Inquiries to Jaci Schill.


More from Portable Tools