Extended Length Containers have long-side drop doors.
Press Release Summary: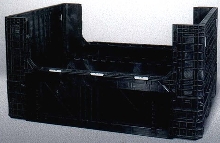 Reusable 64.5 x 48 in. premium-grade HDPE and CPP containers have lightweight hinged latchless drop doors that lie flat when opened and are removable. Designed for plastics, textile and metalworking industries, containers protect and transport long and hard-to-fit parts and products, stack upright or collapsed and are recyclable. Models with footprints ranging from 32 x 30 in. to 70 x 48 in. and 50 in. heights are also available.
---
Original Press Release:
ROPAK(TM) Extended Length Containers With Long-Side Drop Doors Take Productivity, Efficiency To New Levels

GEORGETOWN, KY (November 5, 2001) The innovative Extended Length family of ROPAK(TM) reusable containers from LINPAC Materials Handling has been taken to new levels of efficiency and productivity by adding long-side hinged drop doors to the popular 64.5" x 48" line of containers.

The lightweight drop doors have a latchless design and when opened, lie flat against the outside of the container. They also can be easily removed through our articulated hinge design. To enhance label visibility, larger label holder areas have also been added.

Designed with added strength and rigidity to accommodate long and hard-to-fit parts, the long-lasting, durable ROPAK Extended Length containers protect and transport parts and products safely while replacing other, costlier forms of transport packaging.

In addition to the long-side drop doors. the 64.5" models also are available with 0, 1 or 2 hinged drop doors on the 48" side, and feature four-way forklift entry. The ROPAK Extended Length containers stack high, either upright or collapsed, to conserve floor space; withstand years of repeated wear and handling, and are easily recyclable at the end of their useful lives.

Originally designed to hold the longer parts of the automotive industry, such as bumper reinforcements, plastic trim and air ducts, the Extended Length containers are now used in a wide array of industries, including plastics, textile and metalworking.

The reusable containers manufactured by LINPAC are used to replace single trip paper, cardboard and metal packaging. They are made of premium grade, high-density polyethylene (HDPE) and copolymer polypropylene (CPP) for durability, and are available in a variety of configurations and weight capacities. The ROPAK product line includes pallets, hopper bottom containers and collapsible and non-collapsible container models with footprints ranging from 32" x 30" to 70" x 48", and heights to 50". In addition, the Food Container Systems Division offers a full range of stack-nest, hand-held totes specifically designed for the retail grocery industry. LINPAC Materials Handling containers serve in a variety of industries, including automotive, plastics, chemicals, textiles, industrial equipment, appliance components, fresh produce, meat, poultry and retail grocery. A full range of design, implementation, financial and support services are available.

More from Agricultural & Farming Products