Pressure Sensors / Detectors / Transducers
Explosion-Proof Pressure Sensor uses digital compensation.
Press Release Summary: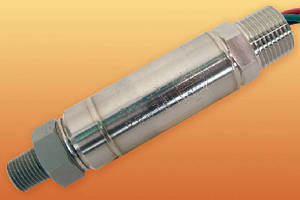 Featuring single seal approval and all-stainless steel construction, media-isolated AST46HA comes in one-piece, non-oil filled design that enables continuous operation at extreme ambient temperatures from -40 to +185°F. It also offers compensated temperature range of -22 to +131°F and media temperature range of -40 to +250°F. Optimized for linearity and repeatability, product delivers standard ±0.1% BFSL accuracy and EMI/RFI protection of 100 V/m.
---
Original Press Release:

Explosion Proof Pressure Sensor with Digital Compensation, Single Seal Approval



Mt. Olive, NJ - February 11, 2009... American Sensor Technologies, Inc. (AST) offers the AST46HA, a Media Isolated Explosion Proof Sensor with Digital Compensation and Single Seal Approval. Featuring all stainless steel construction and approved to CSA30 (UL1203/FM3615) Class 1, Division 1 and Zone 1 Group IIB Explosion Proof, Groups C and D, the AST46HA is the cost effective solution for extreme temperature applications, including arctic environments and off shore platforms. By applying digital compensation and utilizing Krystal Bond(TM) Technology, this product offers top performance in the most extreme temperature conditions. While oil filled sensor technologies can experience freezing or boiling at extreme temperatures, the AST46HA pressure sensor utilizes a one-piece stainless steel, non-oil filled sensor design offering continuous operation at temperatures that cause other sensors to fail. If linearity and repeatability are critical for your application, this product will exceed your expectations at an affordable price.

The AST46HA is extremely versatile and suitable in a variety of applications. These applications include: oil and gas pipelines, well optimization, drilling platforms, CNG/LNG fill stations, paint booths and remote transmitter units (RTU). Moreover, the AST46HA operates at a wide ambient temperature range [-40 to 85°C (-40 to 185°F)], offers a compensated temperature range of [-30 to 55°C (-22 to 131°F)] and media temperature range of [-40 to 125°C (-40 to 250°F)]. All AST46HA units come standard with ±0.1% BFSL accuracy, EMI/RFI protection of 100V/meter and a variety of output options including 4-20mA, 1-5V, and 0.5-4.5V ratiometric.

Competitive pricing for the AST46HA starts at $525 (10 piece minimum) with quantity discounts available. For more information on these Explosion Proof Pressure Transmitters, visit the AST website at www.astsensors.com/detail.php?i=30 or contact the factory at info@astsensors.com.

About AST
AST (www.astsensors.com) manufactures state-of-the-art, MEMS-based pressure sensors, transducers and transmitters that offer the best price-performance ratio in the industry. Through the acquisition of noted LVDT manufacturer Macro Sensors (http://www.macrosensors.com/), AST also offers a full line of linear/rotary position sensors, as well as related instrumentation. Common applications of AST sensor products are in industrial OEM, hydraulic systems, fuel cells, medical gases, HVAC/R, refrigeration (ammonia, Freon, CO2), oil & gas exploration and production, and off-road vehicles. By combining exotic metals and AST's exclusive, proprietary Krystal Bond(TM) Technology (an advanced process in which inorganic materials are molecularly diffused onto a metallic surface in the presence of certain gases) in the manufacturing of its pressure sensors, AST can produce high-performance pressure units that support the specialized needs of key niche markets. Many AST products are UL listed as intrinsically safe and certified for explosion-proof required environments. For more information on AST products and technology, please go to AST's website at www.astsensors.com.

More from Fluid & Gas Flow Equipment