Explosion-proof Enclosures suit any hazardous area.
Press Release Summary: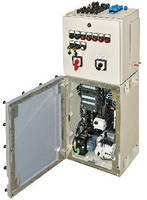 Made of flameproof, copper-free aluminum with stainless steel fixings and powder coating, GHG 64 Series features temperature range of -20 to +40°C and can be tailored to suit requirements of application. Modular units come in 11 sizes ranging from 210 x 210 x 191 mm to 650 x 650 x 442 mm. With 690 V rated voltage and 1,150 A rated current, enclosures can be installed in hazardous gas or hazardous dust areas. Units are protected to IP65, but can be upgraded to IP66 with optional lip seal.
---
Original Press Release:

New Modular Explosion-proof Enclosures Can Be Tailored to Suit Any Hazardous Area



A new range of modular, explosion-proof enclosures for electrical equipment has been launched, which is not only innovatively designed, but can also be tailored to suit the exact requirements of the application - whether for an onshore oil refinery, offshore oil platform or in a harsh industrial environment such as a chemicals plant.

The GHG 64 Ex-d enclosure series from COOPER Crouse-Hinds, represents a leap forward in terms of enclosure design, modularity and application flexibility. Due to optimum material selection, including a high quality powder coating (>10 mm) and the use of stainless steel fixings, the GHG 64 is a compact, flameproof, copper-free aluminum enclosure with a wide temperature range from -20 deg C to + 40 deg C (-55 deg C to +55 deg C option also available).

11 different sizes of enclosure are available, from W210 x L210 x D191mm, up to W650 x L650 x D442mm. These can be installed in hazardous gas (Ex-d IIB or optional Ex-d IIB + H2) or hazardous dust areas (tD). Rated voltage is up to 690V and rated current is up to 1150A.

The GHG 64 can be interconnected using flameproof bushings, which enables large, complex customized solutions to be assembled. COOPER Crouse-Hinds can also provide a wide variety of integrated control systems and devices, such as contactors, MCBs, RCDs, PLCs, WLAN, time elements, electronic components and terminals - all housed within a space-saving, fully-assembled, fully protected Ex-d enclosure.

The customer can also choose from a variety of optional fittings, including a display window, frameworks for wall and floor mounting, a special hinged cover with up to 110-degree opening angle, as well as a selection of cable entry systems (Ex-d and Ex-e from CEAG and Capri).

Intelligent Hinge Technique

Even if the customer needs to mount the enclosures directly adjacent to one another, special stainless steel hinges can be fitted to the units by COOPER Crouse-Hinds, which enable the en-closure door to be pulled out and swung open at an angle of up to 110 degrees. Once the captive screws are removed, the enclosure cover can be swung open easily due to spring-mounted pull/turn hinges. The flat flamepath is also protected against damage.

As Daniel Eichert, Global Product Line Manager Switchgear at COOPER Crouse-Hinds states: "This innovation not only saves installation space, but also simplifies maintenance work and speeds up the repair and replacement of built-in components."

Cost saving windows

An optional display window can be embedded in the enclosure housing, enabling the user to monitor the display and switch states of built-in components. This eliminates the cost of sourcing additional, explosion-protected indicators for the enclosure.

Sealing system for low maintenance, flat flame paths

The GHG 64 is protected to IP65. However, this can be upgraded to IP66 by fitting an optional lip seal made from a highly heat-resistant, weather-resistant silicone. This gasket system also prevents the ingress of aggressive particles and other foreign matter into the Ex-d flame path, providing long-term corrosion protection and improved safety. In addition, using the IP66 version of the GHG 64 enclosure system results in prolonged maintenance intervals.

Enclosures with lip seals can therefore be installed in extreme environments where moisture, salt water, chemicals and dust are present. This includes offshore oil & gas platforms, marine applica-tions, harsh industrial conditions, and dusty environments such as flour, sugar and saw mills.

High heat dissipation

The high heat dissipation rating of the GHG 64 enclosure means a high degree of flexibility for the customer in terms of which standard industrial components can be safely housed within the Ex-d enclosure. The permissible limiting temperature values are therefore higher with the GHG 64, which saves installation space and provides more flexibility during the planning stage.

Connection and busbar boxes

COOPER Crouse-Hinds has also adapted its Ex-e connection and busbar boxes to suit the new modular GHG 64 enclosures. This means a wide range of electrical distribution connections are possible with currents of up to 1150A.

Busbar boxes are available in Ex-e and Ex-d designs. Rugged Ex-e enclosures made from powder-coated sheet steel or stainless steel can be adapted to the modular system. Ex-d enclosures are made from die cast aluminum alloy. Busbar rails can be used to connect multiple enclosures.

Cover-mounted components

As well as busbar connections and boxes, COOPER Crouse-Hinds can also supply a wide range of cover-mounted components direct from the factory. Threaded Ex-d holes can be incorporated into the GHG 64 cover in order to accommodate a variety of screw-in components such as rotary switches, pushbuttons, nameplates, padlocking mechanisms, signal lamps, windows and actuators for circuit breakers (MCBs).

Intelligent instrumentation for hazardous areas

The modular concept of the GHG 64 series means that the customer can combine the reliable safety of an explosion-protected enclosure with the benefits of a continuous communications infra-structure between the main, control and process levels of a plant. For example, Ethernet-based communications systems can be installed in hazardous areas.

In the process industries, wireless communications are also growing in popularity. By working closely with sister company MTL, COOPER Crouse-Hinds is able to provide customers with com-plete wireless communications solutions for hazardous areas, including wireless gateways for Profi-bus, Modbus, RS232 and 485.

Application Examples

GHG 64 Ex-d and Ex-e enclosures have already been implemented in several customer applica-tions. For example, a unique, custom engineered, Ex-Wireless LAN system was developed for an oil and gas customer based in Germany. This system records vibrations from machines in hazard-ous areas via wireless LAN. Wireless vibration sensors monitor the critical points on the machines directly and measurement data is then transmitted via wireless LAN connection to a computer located in a GHG 64 enclosure. The system can also monitor machines on a permanent basis in order that maintenance activities can be scheduled in time.

In another application, a series of GHG 64 electrical power distribution panels have been delivered to an offshore gas exploration field in the Gulf of Thailand.

For more information on COOPER Crouse-Hinds' Ex-d GHG 64 enclosures, please contact the UK sales office on 02476 308930 or email sales@ceag-crouse-hinds.co.uk or visit www.ceag.de.

COOPER Crouse-Hinds (UK) Ltd

As part of the COOPER Industries Group, COOPER Crouse-Hinds (UK) Ltd is the number one company in the field of explosion protection. Committed to technological progress, the company develops and manufactures a range of products that cover all the requirements currently placed on modern, explosion-protected, electrical installation technology, including illumination, safeguarding, signalling, controlling, instrumentation and distribution of electrical energy in potentially explosive atmospheres. In the company¡¦s production plants in Germany, England and Spain, the company manufactures a wide range of products for explosion protection.

COOPER Crouse-Hinds supplies products that comply with all the latest directives and standards - worldwide. In addition to systems and components built to ATEX standards, the company also provides solutions that have been certified to both IEC and NEC standards. Moreover, the company also has a large number of other national approvals, e.g. for Eastern European countries, China and North America. With COOPER Crouse-Hinds you can get all you need from one source.

More from Construction Equipment and Supplies