Expansion Module connects conventional contacts to LSN loop.
Press Release Summary: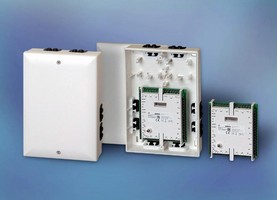 Featuring inputs that can be configured for intrusion, tamper, and door locking detection, Expansion Module provides 6 conventional inputs; 2 are designed for line-fed glass break detectors, while 2 are intended to connect block-type lock or coded arming device. Four programmable outputs are supplied for controlling block-type lock or logical arming device. Model ISP-EMIL-120 is offered with enclosure and ISP-PCBA-EMIL is available as module only.
---
Original Press Release:

Bosch Expands LSN Technology Product Range: New Expansion Module for Connecting Conventional Detectors and Arming Devices to an LSN Loop



o A single expansion module includes six zone inputs
o Supports both classic and improved LSN technologies
o High reliability thanks to encapsulated electronics
o Available with enclosure (ISP-EMIL-120) or as module only (ISP-PCBA-EMIL)

Bosch is expanding its LSN product portfolio with a new expansion module that allows conventional detectors and contacts to be connected to an LSN loop. Typical applications also include connecting arming devices such as block-type locks and coded arming devices and their components to an LSN loop. The inputs can be configured for intrusion, tamper and door locking detection as well as other detection types. In addition, the module provides four programmable outputs, e.g. for controlling a block-type lock, or a logical arming device.

In local security networks, detection and control functions are performed via the LSN line. This means additional inputs in the control panel are not required for control procedures. Conventional detectors and contacts, magnetic contacts or bolt contacts are grouped together on one detector zone. The expansion module provides six conventional inputs. Two inputs are designed for line-fed glass break detectors, two are intended to connect a block-type lock or a coded arming device.

Bosch developed the expansion module for connection to the next generation of LSN improved control panels. The device offers the extended functionality of LSN improved technology. The integrated DIP switch can be set to LSN classic mode, which provides backwards compatibility to existing Bosch LSN classic mode control panels, such as NZ 300 LSN, UEZ 2000 LSN and UGM 2020.

The expansion module is available in two versions: ISP-EMIL-120 with enclosure and ISP-PCBA-EMIL as module only. A maximum of two IMS-RM relay modules can be installed in the enclosure of the ISP-EMIL-120 version. This relay module is necessary to connect control elements with high current requirements or when potential-free switching is required. One IMS-RM relay module includes two relays, each of which has two switch contacts for potential-free outputs.

The expansion module operates particularly reliably, thanks to the encapsulated electronics. The built-in buzzer can be used to signal status changes, for example in the event of maintenance. As a security precaution, the module includes a tamper contact that, if triggered, sends a unique message and is assessed as a tamper alarm. Bosch offers an optional MS-WTC wall tamper switch to trigger a tamper alarm if the device is removed from the wall. The IMS-WTC switch mounts inside the enclosure of the ISP-EMIL-120 version

All LSN elements are designed to loop through the power supply of subsequent LSN elements. The applicable voltage range must be taken into account to ensure correct operation of the expansion module. The detector voltage should be between 9 and 30 V.

The Bosch Group is a leading global supplier of technology and services. In the areas of automotive and industrial technology, consumer goods, and building technology, some 271,000 associates generated sales of 46.3 billion euros in fiscal 2007. The Bosch Group comprises Robert Bosch GmbH and its more than 300 subsidiaries and regional companies in roughly 50 countries. This worldwide development, manufacturing, and sales network is the foundation for further growth. Each year, Bosch spends more than 3 billion euros for research and development, and applies for over 3,000 patents worldwide. The company was set up in Stuttgart in 1886 by Robert Bosch (1861-1942) as "Workshop for Precision Mechanics and Electrical Engineering."

The special ownership structure of Robert Bosch GmbH guarantees the entrepreneurial freedom of the Bosch Group, making it possible for the company to plan over the long term and to undertake significant up-front investments in the safeguarding of its future. Ninety-two percent of the share capital of Robert Bosch GmbH is held by Robert Bosch Stiftung GmbH, a charitable foundation. The majority of voting rights are held by Robert Bosch Industrietreuhand KG, an industrial trust. The entrepreneurial ownership functions are carried out by the trust. The remaining shares are held by the Bosch family and by Robert Bosch GmbH.

Additional information can be accessed at bosch.com.

More from Mounting & Attaching Products