Expansion Joint overcomes temperature swings.
Press Release Summary: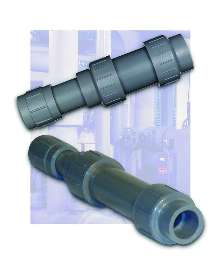 PVC and CPVC Expansion Joints suit applications where air or fluid can experience 30°F shift in temperature. Inner and outer telescoping tubes allow mounting between 2 fixed points. Inner tube expands and contracts against anchored outer tube to provide flexibility, while triple O-ring design enhances strength and rigidity. Operating ambient temperature range is from 60-90°F, and operating fluid temperature range is 50-80°F.
---
Original Press Release:

George Fischer Sloane's New Expansion Joint Provides Solution to Problems Associated with Thermal Expansion in Outdoor Piping Systems


LITTLE ROCK, Arkansas - March 10, 2004 - Designed to provide a simple engineering solution to the problem of expansion and contraction in outdoor piping systems exposed to harsh environmental elements, George Fischer Sloane has introduced a new Expansion Joint in PVC and CPVC. Typical applications include chill water systems, water intake systems, waste lines, open-air chemical plants, manifold systems, or any outdoor application where the air or fluid can experience a 30° shift in temperature.

Available in sizes from 1/2 to 6-inch, the new Expansion Joint incorporates inner and outer telescoping tubes that allow for high-strength mounting between two fixed points. The inner tube expands and contracts, similar to a piston, against the anchored outer tube, providing the flexibility needed to maintain proper pipe operation. The triple O-ring design further enhances strength and rigidity. Operating ambient temperature range is from 60°F to 90°F. Operating fluid temperature range is between 50°F and 80°F.

George Fischer's Expansion Joint should be considered in the design and installation of thermoplastic piping systems where expansion and contraction are required. Parameters for these conditions include systems where space is restricted, where aesthetics are important, or any outdoor system where temperatures can swing 30 degrees.

A variety of configurations are available, including EPDM or FPM O-rings, 6-inch or 12-inch travel, and flanged, socket by socket, or socket by spigot end connections. List pricing is $182.00 to $750.00 each for PVC sizes ½-inch to 6-inch, and $200.00 to $1000.00 each for CPVC ½-inch to 6-inch. All George Fischer Expansion Joints are manufactured in a QMS ISO 9001 and EMS ISO 14001 certified facility.

For further information, please contact George Fischer Sloane, Inc. at 7777 Sloane Dr., Little Rock, Arkansas 72206; Toll-free: (800) 423-2686; Fax: (501) 490-7171; E-mail: jim.bradley@sloane.georgefischer.com; web site: sloane.georgefischer.com

Related