Expanded Line of VersaView 5200 Thin Clients from Rockwell Automation Offer Easier Device and User Management
Press Release Summary: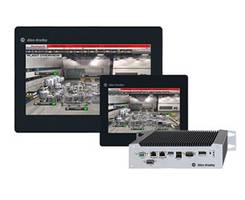 Rockwell Automation's new VersaView 5200 thin clients allow for single and multiple displays with different resolution options. The thin clients, which don't need configuring, are designed to be used with VersaView 5100 monitors and ThinManager software. The software manages visualization and content from a central location, and features Relevance technology to deliver targeted content based on role and location. Information is stored on a server for protection, and the software includes multifactor user authentication.
---
Original Press Release:
Extended Line of Thin Clients Help Increase Flexibility Across the Enterprise
VersaView 5200 thin client portfolio from Rockwell Automation helps simplify management of devices and users

MILWAUKEE, December 6, 2018 — With many applications on multiple displays throughout a plant floor, manufacturers struggle to manage numerous sources of content. The newly expanded portfolio of Allen-Bradley VersaView 5200 thin clients from Rockwell Automation using ThinManager software helps manufacturers more easily manage their applications.

"The latest additions to the VersaView 5200 portfolio allow end users to choose a single display or multiple displays with a variety of resolution options," said Matt Hansen, product manager, Rockwell Automation. "Customers leveraging ThinManager software can now match the right thin client hardware to their specific application needs."

The expanded VersaView 5200 portfolio includes five thin clients: single display, dual display, dual 4K display, multi 4K display and integrated display. The multi 4K is the first in the industry to offer seven displays and is exclusively supported by ThinManager software.

The new thin clients each offer unique benefits. The single display offers a compact design, with a single DisplayPort video output. The dual 4K display includes a high-performance quad core Intel Atom CPU for more demanding applications. The multi 4K display offers a high-performance quad core Intel i5 CPU for applications requiring multiple displays.

The VersaView 5200 non-display thin client options are ideal for use with VersaView 5100 monitors. This two-piece solution separates the monitor and thin client, so either can be replaced independently. 

The VersaView 5200 thin clients are designed to be used exclusively with ThinManager software. The software centrally manages content and visualization for every aspect of modern industrial operations. It can help reduce downtime and maintenance by simplifying the management of all devices and users. The location-based Relevance technology from Rockwell Automation can deliver targeted content based on role and location. 

When used with the ThinManager software, the VersaView 5200 thin clients can start receiving information as soon as they are plugged in. Device configuration is not needed, resulting in faster device replacement. Information is stored on a server to help protect sensitive information. The ThinManager software also provides multifactor user authentication, including biometric authentication using fingerprint scanning.

About Rockwell Automation
Rockwell Automation Inc. (NYSE: ROK), the world's largest company dedicated to industrial automation and information, makes its customers more productive and the world more sustainable. Headquartered in Milwaukee, Wis., Rockwell Automation employs approximately 23,000 people serving customers in more than 80 countries.

Media Contacts
Steve Ludwig
Rockwell Automation
440.646.4013
swludwig@ra.rockwell.com 

Leanne Hanson
Padilla
612.455.1776
leanne.hanson@padillaco.com 
More from Communication Systems & Equipment