Expandable Spreader Beams are used with lift magnets.
Press Release Summary: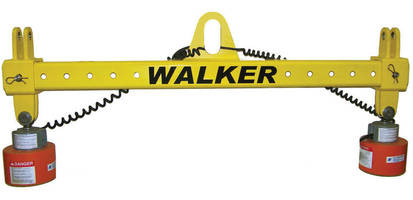 ExBeam products are available in Ex 10 model, which expands from 2-6 ft and has lifting capacity of 2,200 lb. It can be used with 2 Neo-250 or 2 Neo-500 lift magnets. Offering lifting capacity of 8,000 lb, Ex 12 expands from 3-6 ft and is used with 2 Neo-1000 or 2 Neo-2000 lift magnets. On each, lifting lug that supports magnets is manually adjustable and devices, designed for lifting steel, can also be used with logs or paper rolls when used with slings/chains.
---
Original Press Release:

Walker Magnetics Handles the Hard-to-Handle



Worcester, MA, October 5, 2009 - Walker Magnetics, the worldwide leader in the design and manufacture of magnetic products for light and heavy industry, introduces ExBeam, an expandable spreader beam.

ExBeam is designed to make the handling of long, unwieldy products both safer and easier. And, in the case of ExBeam, it's not limited to handling steel. ExBeam can also be used with slings and chains to handle other difficult loads such as logs or rolls of paper. Bottom line? If it's long and spindly, ExBeam can handle it.

The product is available in two models: Ex 10 and Ex 12. Each has a different weight
and expansion capacity. Both are designed to support maximum capacity of magnets
at maximum distance.

The Ex 10 expands from 2 feet to 6 feet and has a lifting capacity of 2200 lbs. It can be used with either two Neo-250 lift magnets or two Neo-500 lift magnets.

The Ex 12 has a lifting capacity of 8000 lbs and expands from 3 feet to 6 feet. This model can be used with either two Neo-1000 lift magnets or two Neo-2000 lift magnets.

ExBeam saves time because it gives you the ability to quick change and adapt to different lifting scenarios within your shop environment. The lifting lug that supports the magnets is manually adjustable. No special tools required. Simply pull the locking pin on the adjustable slide, reposition, reinsert the pin and you're ready to lift.

Increase your flexibility with ExBeam from Walker Magnetics-the safe, simple way to handle hard-to-handle products.

For more information on ExBeam expandable spreader beams, contact WALKER MAGNETICS, 20 Rockdale Street, Worcester, MA 01606, call Kristian Knights or
John Knight at 1-508-853-3232, email kknights@walkermagnet.com, jknight@walkermagnet.com. Or visit www.walkermagnet.com/news.

About Walker Magnetics Group

Walker Magnetics Group, Inc., a privately owned company, is the largest company in the world providing custom design and manufacture of magnetic products for workholding, material handling and separation applications. Founded in 1896 in Worcester, Massachusetts by Oakley S. Walker, the inventor of the electromagnetic chuck, the company has grown from a manufacturer of one primary product, the electromagnetic chuck, to a global concern. Walker Magnetics Group designs and manufactures a wide range of permanent, electromagnetic and electro-permanent magnet products and systems for industrial applications. Headquartered where it all began in Worcester, Massachusetts, Walker Magnetics Group's reach is international-and growing with manufacturing, research and development capabilities in North America, Europe and Asia. The company delivers its diverse product line to over 190 countries worldwide. Visit Walker Magnetics Group at www.walkermagnet.com.

More from Chemicals & Gases