Exit Sign Getting Broken?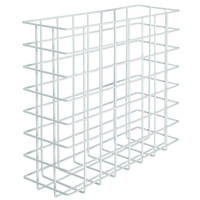 June 13, 2017 - Tired of replacing broken exit signs? STI's highly durable Exit Sign Damage Stopper® (STI-9741) offers excellent protection for signs against vandalism and accidental damage.
STI's wire guard helps prevent replacement of an expensive broken or damaged signs and reduces maintenance costs. Constructed of tough, 9-gauge steel wire coated with corrosion resistant polyester, it is recommended for areas where abuse is severe or it is imperative important devices continue to operate for the safety of building occupants.
STI-9741 helps ensure recessed or top mounting exit signs are operational and maintain integrity of the signs. The guard also helps decrease maintenance costs, reduces time spent replacing broken or stolen units, waiting for parts to arrive, etc. Four sizes available.
An array of wire guards are available to help protect beam smoke guards, smoke detectors, motion detectors, speakers/strobes, lights, clocks/bells and much more.
To order or for more sales information on the STI Exit Sign Damage Stopper or the entire Stopper® Line, call 800-888-4784, fax 248-673-1246, email info@sti-usa.com or visit www.sti-usa.com.
STI's address is:
2306 Airport Road,
Waterford, MI 48327-1209.
Contact This Company Download Spec Sheet
More from Non-Industrial Products