Exhaust Silencers diffuse air and muffle noise.
Press Release Summary: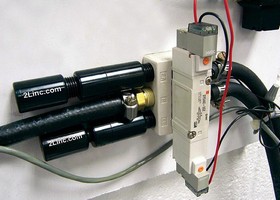 Used individually or stacked, 2L Stackable No-Clog Air Exhaust Silencers reduce noise created by air exhausted from pneumatic equipment without interfering with operations. Noise reduction levels of 12-27 db are possible, depending on model or combination of models. Made from anodized aluminum, products, available in male and male/female NPT sizes of 1/8, ¼, and 3/8 in., have straight-through design that does not cause back-pressure build-up.
---
Original Press Release:

Stackable No-Clog Air Exhaust Silencers Affordably Diffuse Air and Muffle Noise



Inexpensive Noise Reduction Now Possible with No-Clog Air Exhaust Silencers.
2L inc.

Friday, December 16, 2005

Hudson, Massachusetts - 2L inc. announced today the addition of several products to its air exhaust muffler and silencer product line responding to customer requests for easy and affordable noise reduction solutions.

2L Stackable No-Clog Air Exhaust Silencers provide a great opportunity for shops to reduce noise created by air exhausted from industrial pneumatic equipment while also reducing the maintenance required to clean typical muffler systems . 2L Stackable No-Clog Air Exhaust Silencers can be used individually or stacked to achieve even greater performance.

Tests have shown typical noise reduction levels to be in the range of 12 db - 27 db.

Individual Silencers / Male Pipe Threads NPT
1/8" M, 1/4" M or 3/8" M: Noise Reduction Level - 12-16 db

Stacked Silencers / Male + Male-Female Pipe Threads NPT
(1/8" M) + (1/8" M - 1/8" F): Noise Reduction Level - 19 db
(1/4" M) + (1/4" M - 1/4" F): Noise Reduction Level - 23 db
(1/8" M) + (1/4" M - 1/8" F): Noise Reduction Level - 27 db

"Our No-Clog Air Exhaust Silencers provide 2L customers an economical and flexible option to address the noise management needs in their shops," a company spokesman said. "This system gives both small and large machine shop operators more control over noise exposure in their facilities. These mufflers will not interfere with equipment operations, they don't cause typical back-pressure build-up, and with this solution, there is no need to waste time disassembling and cleaning the silencers." "Additionally, since 2L Stackable No-Clog Air Exhaust Silencers are made from anodized aluminum; there are no plastic or other degradable parts which require maintenance or replacement."

2L Stackable No-Clog Air Exhaust Silencers are available in male and male/female NPT sizes of 1/8", 1/4" and 3/8", are easily combined, and are built to withstand harsh or dirty environments. The precision engineered straight-through design reduces the opportunity for the clogging typically experienced when used in situations where exhaust contaminants exist.

Please refer all inquiries to the 2L Marketing Department at:
2L inc., P.O. Box 105, Hudson, MA 01749
(978)567-8867
2Linc.com

About 2L inc.
2L inc. designs, develops, manufactures, and distributes innovative tools and product solutions for the manufacturing and industrial markets.

2L inc.
P.O. Box 105
Hudson, MA 01749
Phone: (978)567-8867
Fax: (978)562-8972
2Linc.com

More from Laboratory and Research Supplies and Equipment