Exhaust Gas Heating System maximizes engine performance.
Press Release Summary: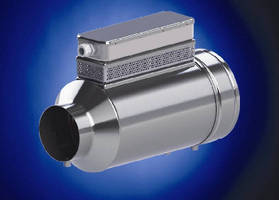 Functioning as internal load bank in medium stationary and mobile diesel generator applications, ECO-HEAT® helps eliminate problems encountered under low generator load conditions, such as increased engine back pressure. System is installed in exhaust pipe and provides heat directly where it is needed within aftertreatment system. Using electricity from generator, unit has dual effect of increasing exhaust gas temperatures by both increasing load on diesel engine and heating exhaust directly.
---
Original Press Release:

Watlow's New ECO-HEAT® System Functions as An Internal Load Bank to Maximize Engine Performance



Watlow®, an industry leader in the design and manufacture of complete thermal systems, recently introduced its new ECO-HEAT® exhaust gas heating system that functions as an internal load bank in medium stationary and mobile diesel generator applications. Incorporating ECO-HEAT into a diesel generator's aftertreatment system helps eliminate problems encountered under low generator load conditions, such as increased engine back pressure due to excessive soot loading, poor NOx conversion and fouled EGR valves.



Unlike external load banks which require a completely separate footprint and waste their heat to the surrounding environment, ECO-HEAT is designed to be installed in the exhaust pipe and provides heat directly where it is needed within the aftertreatment system. Using electricity from the generator, it has the dual effect of increasing exhaust gas temperatures by both increasing load on the diesel engine and heating the exhaust directly. This saves valuable space and requires less energy, resulting in less fuel consumption. If generator load demand increases, the ECO-HEAT system gradually reduces its load and thermal output, and shuts off as soon as exhaust gas temperatures reach acceptable levels. 



"Low exhaust gas temperatures resulting from low load or low ambient conditions can compromise the performance of your diesel generator's aftertreatment system," said Jeff Diestelmeier, director of global marketing, diesel emissions business unit. "These problems can lead to unplanned downtime and expensive repairs. You can think of ECO-HEAT as a smart internal load bank to help ensure that your diesel generator stays running when you need it."



About Watlow

Watlow designs and manufactures industrial heaters, temperature sensors, controllers and supporting software — all of the components of a thermal system. The company partners with its customers to optimize thermal performance, decrease design time and improve efficiency of their products and applications.



Watlow brings its experience to numerous industries, including semiconductor processing, environmental chambers, energy processes, diesel emissions, medical and foodservice equipment.



Since 1922, Watlow has grown in product capability, market experience and global reach. The company holds more than 450 patents and employs 2,000 employees working in nine manufacturing facilities and three technology centers in the United States, Mexico, Europe and Asia. Watlow also has sales offices in 16 countries around the world. The company continues to grow, while the commitment remains the same — to provide its customers with superior products and services for their individual needs.



For additional information call your nearest Watlow representative:

Watlow

Phone: 1+ (800) WATLOW2, 1+ (314) 878-4600

Fax: 1+ (877) 893-1005, 1+ (314) 878-6814

More from Computer Hardware & Peripherals