Exclusive Digital Potentiometer from Dart Now Offers Safety Feature Front Panel Lockout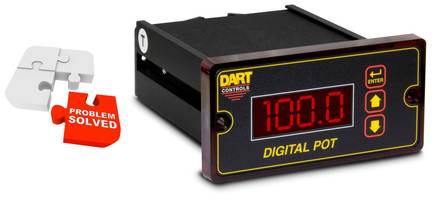 The exclusive and very popular DP4 Digital Potentiometer from Dart Controls is a must for users of any variable speed drive (AC or DC) where a precise, repeatable speed setting is needed. The digital display is scalable to show speed in engineering units, time in process, and %.
Continuing to improve the product, the DP4 now offers a software configurable contact input which will render the set speed buttons on the DP4 inoperable. This may be needed for safety or other reasons. The contact input can be a key lock switch, remote plc contact, or other contact source.
This feature is now included in the standard DP4 software, at no extra charge. Go to http://www.dartcontrols.com/product-guide/digital-analog-control-systems-2/ for more information.
Dart Controls, Inc.
5000 W. 106th St.
Zionsville IN 46077
phone: 317-873-5211
url: http://www.dartcontrols.com
contact: Mark Lewis
VP - Sales & Marketing
email: mark_lewis@dartcontrols.com
Contact This Company Download Spec Sheet
Related