Excitation System features flexible design.
Press Release Summary: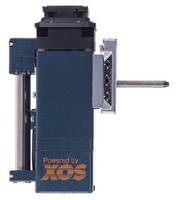 Providing fully integrated X-ray beam solution aligned with Polycapillary optics, fleX-Beam integrates into any instrument or system, delivering optimized stability and intensity. Compact design is equipped with high-voltage power supply, built-in cooling fan, and shutter/filters, in addition to desired source and optic. System offers option for users to switch optics or X-ray sources and realign system in field without need to send components or whole instruments back to factory.
---
Original Press Release:

XOS Unveils the FleX-Beam(TM): its Latest Excitation System



New system delivers flexible design and unyielding performance



EAST GREENBUSH, New York, -- XOS (xos.com), a leading provider of advanced optics and OEM sub-systems, announced today the release of its latest excitation system, the fleX-Beam. The fleX-Beam provides a fully-integrated X-ray beam solution that maintains the performance of the well-known XOS X-Beam while delivering a new level of flexibility: in design, integration, and serviceability. To learn more about the fleX-Beam, please visit us online at https://xos.com/flex-beam.



The fleX-Beam provides an excitation source—aligned with industry-leading Polycapillary optics—that delivers unprecedented stability and intensity. The fully integrated solution is compact and easily integrates into any instrument or system.



"We're excited about the level of flexibility and performance the new fleX-Beam offers," said Ning Gao, Ph.D., XOS Product Manager for X-Ray Optics and Subsystems. "This latest evolution of our X-Beam product line is built with integration and serviceability in mind."



Features of the fleX-Beam



The fleX-Beam features the following:



Industry-leading performance with a smaller footprint and lower profile for uncomplicated integration

The option for users to switch optics or X-ray sources and easily realign the system in the field without the need to send components or whole instruments back to the factory

Very compact design, equipped with a high-voltage power supply, built-in cooling fan, and shutter/filters in addition to the desired source and optic



To learn more about how the XOS fleX-Beam's flexible design and unyielding performance can help you, please visit us online at https://xos.com/flex-beam or call 1-518-880-1500.



About XOS

XOS is a leading manufacturer of application-specific X-ray analyzers, offering elemental analysis solutions that improve public safety and customer efficiency in industries like petroleum, consumer products, and environmental compliance. For petroleum applications, XOS offers portable, lab, and process analyzers with unrivaled precision at the push of a button. XOS also offers analyzers for the detection of toxic elements in consumer products and in the environment. XOS's advanced optics and OEM sub-systems can increase precision, speed, and spatial resolution, while decreasing the size, complexity, and cost of the instrument.  XOS: better analysis counts.



CONTACT: Chris Spellman, 518-880-1507, cspellman@xos.com



Web Site: http://www.xos.com

More from Material Processing