Excellent Results from Vacuum Gas Nitriding Furnace at Solar Atmospheres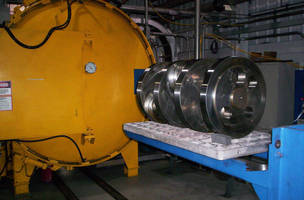 Souderton, Pa. - Solar Atmospheres reports that their recently installed new Vacuum Gas Nitriding Furnace is producing excellent results on all types of steel alloys and part configurations. This new design furnace (Patent Application filed June 13, 2008) with a hot zone that measures 36" wide x 30" high x 48" diameter and has a work load capacity of 2,500 pounds, is considered the ideal replacement for the traditional gas retort type Nitriding furnace.

This equipment has more than exceeded expectations by reducing cycle times by 50% while still providing better overall results on case depth and white layer control. The furnace has also proven to be very successful in meeting the most stringent surface hardness and white layer requirements of the SAE-Aerospace Specifications. The achieved surface hardness depth still preserves core strength and durability while improving fatigue, corrosion resistance, and anti-galling properties. Results are easily repeatable using precise Super Systems Inc. controls to accurately program Nitriding potential for desired case and white layer structure. The incorporated dual fan re-circulating system and the extremely tight hot zone provide for fast heating and excellent temperature uniformity of the workload. The external gas cooling system further enhances capability to reduce cycle time. Overall, this furnace produces properly nitrided and very clean parts that fully meet required customer specifications.

For more information, contact Solar's Director of Marketing, Kim Horrocks, at 800.347.3236, extension 213.


More from Optics & Photonics