Excavator is suited for site development and landscaping.
Press Release Summary: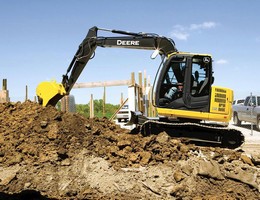 With arm breakout force of 7,194 lb, 75D hydraulic excavator weighs 17,637 lb, and features 15 ft, 1 in. dig depth, 54-net hp diesel certified to EPA Interim Tier 4 emission standards, and Powerwise(TM) engine/hydraulic management system. E working mode and auto-idle features contribute to fuel efficiency. Excavator also incorporates tungsten-carbide coated surfaces, oil-impregnated boom, arm and bucket bushings, isolation-mounted cab, climate control, and multi-position seat.
---
Original Press Release:

New John Deere 75D Excavator Great for Light Site and Underground Work, Landscaping



MOLINE, Ill. (July 16, 2008) - John Deere introduces the 75D mid-sized hydraulic excavator. This conventional boom, reduced tail swing unit weighs in at 17,637 pounds, has a 15-foot, 1-inch dig depth and is perfect for light residential, site development, underground and landscaping duties.

"This excavator's reduced tail swing and 360-degree rotation enable it to get into tight spaces," said Mark Wall, excavator product marketing manager for John Deere. "Once you're there, its power and precision take over."

Smart Productivity
The 75D has a 54-net hp diesel certified to EPA Interim Tier 4 emission standards and Deere's exclusive Powerwise(TM) engine/hydraulic management system that maximizes power output, saves fuel and delivers smooth, multifunction operation just like the rest of John Deere's D-Series excavators.

"If you're a small contractor or landscaper who needs pinpoint metering for control yet a lot of production in a highly maneuverable, fuel-efficient package, the 75D is a great unit," Wall said. "Generous hydraulic flow and increased swing torque will help you load more trucks and open more trench."

Big productivity doesn't mean more fuel consumption when you're running a Deere. The excavator's "E" working mode can save fuel by running more efficiently compared to the previous model's "P" mode, while providing similar production. An auto-idle feature helps make the most out of every drop of fuel.

Exceptional drawbar pull delivers plenty of power for backfilling trenches or maneuvering around the jobsite. Plenty of lift height and reach make truck loading easy, even on trucks with high sideboards. An optional control pattern selector valve lets you go from backhoe- to excavator-style controls with just a twist, for the productivity you know best.

Optional rubber tracks let you cross driveways and sidewalks without damage, which is ideal for landscaping and utility jobs on existing properties.

A pilot-control operated box-constructed integral blade is a powerful performer for grading and backfilling.

Built for Comfort and Uptime
Operators can be more productive in the 75D excavator due to the easy-to-enter, comfortable cab. The spacious, isolation-mounted well-appointed cab offers substantial, virtually unrestricted visibility and ergonomically arranged controls. Machine operations can be monitored with ease on the intuitive, multifunction LCD screen. All the creature comforts are there as well, like automatic climate control, AM/FM radio, and a deluxe-suspension multi-position seat.

The 75D is engineered for long life. Tungsten-carbide coated surfaces and oil-impregnated boom, arm and bucket bushings deliver unsurpassed long-term durability. Large, easy-to-open service doors provide ample access to dipsticks, sight gauges, and spin-on vertical engine and hydraulic filters for simple daily and periodic servicing.
"When daily servicing is easy to do, that service is more likely to get done, leading to increased uptime and lower daily operating costs," Wall said. "Large fuel tanks and 500- and 5,000-hour engine and hydraulic oil-service intervals enable the 75D to work longer between stops for scheduled service, too."

Deere & Company (NYSE: DE) is the world's leading provider of advanced products and services for agricultural and forestry and a major provider of advanced products and services for construction, lawn and turf care, landscaping and irrigation. John Deere also provides financial services worldwide and manufactures and markets engines used in heavy equipment. Since it was founded in 1837, the company has extended its heritage of integrity, quality, commitment and innovation around the globe. John Deere Construction & Forestry produces more than 120 machine models and distributes its construction, forestry and worksite products.

For more information, visit www.johndeere.com.

Key Specifications: 75D
Net Power 54 net hp
Operating Weight 17,637 lbs.
Arm Breakout Force 7,194 lbs.

Worldwide Construction & Forestry Division
Mailing: P.O. Box 8806, Moline, IL 61266-8806

More from Architectural & Civil Engineering Products