EXAIR's Award Winning Intellistat Ion Air Gun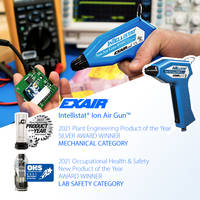 EXAIR's Intellistat Ion Air Gun won the 2021 Silver Plant Engineering Product of the Year Award from the Mechanical Category and also won the Occupation Health and Safety 2021 New Product of the Year Award in the Lab Safety Category.
EXAIR's patented Intellistat® Ion Air Gun is a handheld and lightweight solution to static elimination in clean processes or sensitive assembly work such as scientific and electronic test facilities, laboratories and clean rooms. The Intellistat was designed to consume minimal compressed air while simultaneously delivering precise blow-off, and exceptional static decay rates capable of reducing 1000 volts to less than 100 in less than a second at up to 24" away.
The Intellistat is activated with a comfortable, ergonomic short throw trigger which requires minimal effort. Constructed with a low voltage transformer converting 120V to 24V, it was designed to ensure user safety, in addition to using an EXAIR engineered air nozzle to maximize efficiency and meet OSHA requirements for sound level and dead-end pressure. It is equipped with a red/green LED to signify proper functionality, as well as a hook for easy hanging and storage. Made from durable static dissipative polycarbonate, the Intellistat also assures its usefulness in applications requiring non-conductivity such as circuit board or electronics manufacturing or testing. https://exair.co/93-iiagaward
For More Information Contact:
EXAIR
11510 Goldcoast Dr.
Cincinnati, OH 45249-1621
Phone: +1-800-903-9247
E-mail: [email protected]
https://exair.co/93-iiagaward
Contact:
Pam Starrett
Marketing Coordinator
Phone: +1-800-903-9247