EXAIR's Atomizing Spray Nozzle Family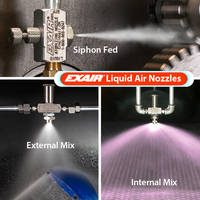 EXAIR's Air Atomizing Spray Nozzles atomize fluids in a range of spray patterns for a variety of uses. They combine liquid and compressed air to create a mist of atomized liquid that can be easily adjusted to meet the needs of your application. One of the primary reasons atomizing spray nozzles are used is because of their fine droplet size. Benefits of fine droplet size include even coating and liquid conservation.
Internal Mix, External Mix and Siphon Fed Atomizing Nozzles are available in 1/8 NPT, 1/4 NPT and 1/2 NPT sizes. Internal Mix nozzles mix the liquid and air inside the cap and produce the finest atomization. External Mix nozzles have the highest flow rates and allow the air and liquid flows to be adjusted independently. Siphon Fed nozzles require no liquid pressure and can be used with gravity fed liquids or liquids from a siphon height as much as 36 inches.
No Drip versions are available for all of these Atomizing Nozzles. They work in the same way our standard nozzles do, but have the added benefit of positively stopping liquid flow when compressed air is shut off.
EXAIR has expanded its selection of atomizing nozzles by providing Liquid Nozzles that do not require air at all. The new FullStream and HollowStream Liquid Atomizing Nozzles produce droplets by spinning the liquid and breaking its surface tension through a precision orifice.
Learn more about EXAIR's large selection of Atomizing Nozzles. They are an excellent choice for cooling, quenching, coating, dust suppression, washing, rinsing and more.
For More Information Contact:
EXAIR Corporation
11510 Goldcoast Dr.
Cincinnati, OH 45249-1621
Phone: (800) 903-9247
Fax: (513) 671-3363
E-mail: [email protected]
https://exair.co/93-LANMulti
Pam Starrett
Marketing Coordinator
Phone: 800-903-9247
Fax: 513-671-3363