EX1401 Measuring Instrument is embedded with EXLab Express software.
Press Release Summary: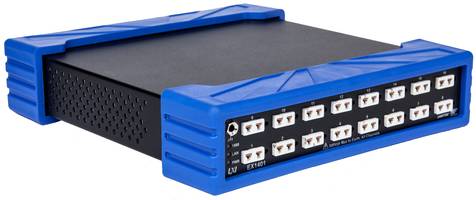 Offering ±0.20°C accuracy, EX1401 Thermocouple and Voltage Measurement Instrument is designed with 1000 V channel-channel isolation and 500V channel-ground isolation. Suitable for automotive, battery testing, HALT/HASS and health monitoring applications, unit delivers a sampling rate of 20K samples/second/channel. Featuring PoE+ and LXI Ethernet interfaces, product comes with built-in parallel data streaming.
---
Original Press Release:
Introducing EX1401 Thermocouple and Voltage Instrument
AMETEK VTI Instruments is proud to introduce the EX1401, a precision, 16-channel, isolated thermocouple and voltage measurement instrument. The EX1401 delivers accuracies of ±0.20°C, 1000 V channel-channel isolation, built-in self-test capabilities, and independent 24-bit ADC's per channel. Independent Cold Junction Compensation (CJC) — implemented on a per channel basis — and Open Thermocouple Detection (OTD) further enhance the instrument's capabilities.
The EX1401 has application in automotive and battery testing, highly accelerated life test/highly accelerated stress screening (HALT/HASS), health monitoring, and jet engine testing. Its ability to acquire data at 20K samples/second/channel allows its usage in high-speed temperature transient applications. Use it in any test environment that requires accurate temperature measurement and repeatability.
Power over Ethernet+ (PoE+) means that engineers can just connect to the network and begin testing. An industry-standard LXI interface allows the EX1401 to be distributed and positioned close to the device-under-test, reducing the implementation and support costs associated with long cable lengths. That also reduces transducer cable lengths along with associated coupled EMI interference, helping to improve measurement accuracy. In addition, the instrument features a comprehensive, built-in self-test function that reports instrument status and problems, maximizing run-time performance.
A full-featured embedded web interface provides configuration and data displays, simplifying setup and usage. EXLab Express, our intuitive data acquisition software, is included with each instrument, eliminating the need for programming.
Parallel data storage and standalone autonomous operating modes further expand the utility of this versatile instrument. The EX1401 also supports IEEE 1588 Precision Time Protocol (PTP), allowing engineers to synchronize measurements from many devices throughout the test application.
Features at a Glance
Typical accuracies of ±0.20°C
16-channel isolated universal thermocouple/voltage inputs
PoE+ connectivity 20K samples/second/channel sample rate
24-bit ADC per channel
500 V channel-ground isolation
1000 V channel-channel isolation
Data logger acquisition mode
Built-in parallel data streaming
Full-featured embedded web interface
LXI Ethernet interface
8-bit bank isolated digital I/O
Compact 1U half-rack form factor
Learn more about how easily the EX1401 integrates with your test application:
Datasheet: http://www.vtiinstruments.com/vtiinstruments/media/Related-Documents-and-Downloads/DataSheets/VTI_EX1401-DataSheet-0601.pdf
Quote: http://www.vtiinstruments.com/Products-Services/EX1401.aspx
For more information or to request an online quote, visit the product page http://marketing.vtiinstruments.com/e/12672/Products-Services-EX1401-aspx/41nzlj/682222739. Alternatively, contact VTI Instruments directly at 949.955.1894 or vti.sales@ametek.com.
Contact:
Jon Semancik
Product Line Manager
VTI Instruments, an AMETEK Company
2031 Main Street,
Irvine, CA 92614
Tel. 949.955.1894
Fax 949.955.3041
More from Electrical Equipment & Systems