EVLVR Portable SSD features Phison E8 PCIe controller.
Press Release Summary: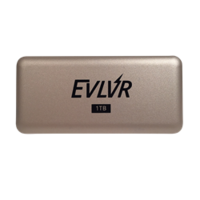 EVLVR Portable SSD offers speed of 1500MB/s in sequential read and up to 1000MB/s in sequential write. Unit is offered in 256GB, 512GB, and 1TB capacities. Product can support high-resolution displays and high-performance data devices and features Thunderbolt™ 3 connectivity option.
---
Original Press Release:
Patriot EVLVR Thunderbolt™ 3 Portable SSD to Debut at CES 2018
Breakthrough tech powered by Phison's E8 PCIe controller and features Thunderbolt™ 3 connectivity, available in 256GB, 512GB, and 1TB capacities
PATRIOT, a global leader in performance memory, SSDs, gaming peripherals, and flash storage solutions today announced the new addition to their performance SSD line, The EVLVR Thunderbolt™ 3 Portable SSD, offering an evolution in SSD technology.
The EVLVR Thunderbolt™ 3 Portable SSD outpaces the speeds of traditional external SSDs by three-fold. With outstanding speed delivered by the Phison E8 PCIe controller and Thunderbolt 3 connectivity, the EVLVR can reach up to 1500MB/s in sequential read and up to 1000MB/s in sequential write speeds. On top of being extremely fast, the EVLVR is also power efficient and does not require any external power supply. Thunderbolt™ 3 brings Thunderbolt to USB-C at speeds up to 40 Gb/s, creating one compact port that does it all. With Thunderbolt 3 a single cable now revolutionizes connection technology – simultaneously supporting high-resolution displays and high-performance data devices while also supplying power.
The name "EVLVR" is an abbreviation for "evolver", and the technology itself presents a major evolution in SSD technology. According to Les Henry, Vice President of Engineering at Patriot, "We are pleased to add the Patriot EVLVR Portable SSD to our SSD line, and our team is especially proud of implementing Thunderbolt™ 3 which allows Patriot to build high-speed and high-quality portable storage solutions."
"We are happy to be able to collaborate with Patriot in bringing a high-performance and power efficient external SSD experience to the Thunderbolt™ 3 eco-system," said KS Pua, Chairman and CEO of Phison. "We believe the Thunderbolt™ 3 device market will experience a healthy growth in the coming years."
The Patriot EVLVR will be available to the public for purchase in March 2017 via the Patriot website, select etailers, and various retailers. Prices will be as follows: 256GB/$199.99; 512GB/$289.99; and 1TB/$489.99.
For 50 years, CES (Consumer Electronics Show) has been a global stage for groundbreaking consumer technology, and Patriot looks forward to bringing forth their latest SSD tech. The EVLVR will be displayed in Patriot's meeting suite at the Bellagio Resort & Casino in Las Vegas, Nevada (3600 Las Vegas Blvd.) from January 9th to 11th, 2018. The suite will be open from 9am until 5:30pm each day, by appointment only. Patriot will also be showcasing some of their other products, including the Scorch m.2 SSD, VIPER m.2 SSD, VIPER 2.5" SSD, VIPER RGB DRAM, VIPER gaming headset, VIPER extended mouse pad, Trinity 3-in-1 USB, EP X micro SD card and more. For more information, or to make an appointment, contact Andrew OuYang on behalf of PATRIOT at: andrewouyang@ideecreatives.com.
About Patriot
Patriot is a leading manufacturer of high performance, enthusiast memory modules, SSDs, flash storage, gaming peripherals and mobile accessories. Founded in 1985 and headquartered in Fremont, CA, USA, Patriot is committed to technology innovation, customer satisfaction and providing the best price for performance on the market. Patriot products have become world renown for their extreme performance, reliability and innovation. Patriot sells its products through original equipment manufacturers, retailers, e-tailers and distributors throughout the world with operations in North America, South America, Asia and Europe. All company and/or product names may be trade names, trademarks and/or registered trademarks of the respective owners with which they are associated. Features, pricing, availability, and specifications are subject to change without notice.
More from Electronic Components & Devices