Evidence of Standout Service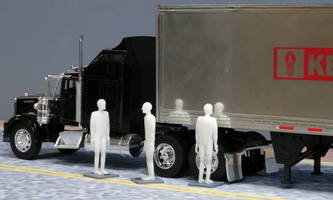 Evidence of Standout Service



Low cost and fast turnaround is why The Evidence Store, a company providing legal photography, videos, and trail exhibit services, chose Sigma Design.



The company was asked to make a 1:28 scale model of an intersection in a case involving a large piece of construction equipment. One of the workers at the site was injured, and the model was going to be used in court to demonstrate the nature and geometry of the area.



Sigma was hired to make 16 3D human figures, with their initials on the base, to place and move around the model as part of the demonstration to the jury. The figures stood 2.57" tall.



"From the minute we called Sigma we were treated by professional, friendly people," said Stephen Appelbaum, President of The Evidence Store. "The case settled soon after the model was completed so it never saw the inside of a courtroom, but the out-of-state client was extremely pleased with the results and the fast service."



Sigma's 3D Rapid Prototyping FDM Machine can take your design concept and create it in three days. To learn more about our 3D Rapid Prototyping services or to submit a file and receive quote, please visit: http://www.sigmadesign.net/3d_rapid.php.







More from Electrical Equipment & Systems