EverPrime® Drain Trap Liquid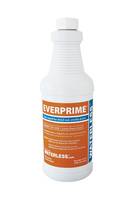 Eliminates the possibility of dangerous sewer vapors coming out of floor drains
EverPrime from Waterless Co. Inc. costs just pennies per use but helps eliminate the possibility of dangerous sewer vapors coming out of floor drains. This can be a real problem in abandoned buildings or buildings closed for long periods of time like schools.
Long-lasting and completely biodegradable, a small amount of EverPrime keeps drain odors away for months on end helping to improve and protect indoor air quality. Plus it has a pleasant fragrance that is pleasing wherever it is used.
For more information, visit www.waterless.com or call toll-free 800-244-6364.
More from Fluid & Gas Flow Equipment