Everkem Adds Fixed Nozzle as TruSil 100 Packaging Option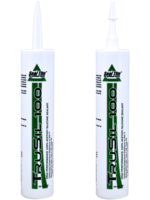 As part of their commitment to customer-driven solutions, Everkem Diversified Products is pleased to announce the addition of fixed nozzle tubes to their TruSil 100 line of Silicone Sealants, thus offering both fixed nozzle and removable nozzle packaging options for the product.
The line was launched with a screw on nozzle which allowed for easy cleaning, storage, and reuse after the product had been opened. It also allows a smaller, precision-focused bead size easier via the nozzle being able to be cut to a smaller bead size and swapped out across multiple tubes.
"We received some great feedback on the removable nozzle from a wide portion of our customer base," Jason Lynch, president of Everkem Diversified Products, said. "But, there are some customers that the removable cartridge is just not a good fit for their applications. After listening to their feedback, we are happy to bring back a packaging solution that met their needs completely. We will still carry TruSil 100 in cartridges with removable nozzles, they aren't going away "we're just adding another option to meet our customer's needs."
Fixed nozzles are preferred by applicators who typically apply caulk in bulk, thus having very little need for storing partially used tubes. Additionally, fixed nozzles allow a larger bead size since the nozzle can be cut closer to the base.
"There are also safety concerns," Mr. Lynch added. "Those who work on ladders, on roofs, or in other high up areas may not have the "free hands" to be able to screw off a nozzle, cut it, screw it back on, and puncture a tube. Most of these individuals make use of the nozzle-cutters built into caulking guns. So, for these individuals a fixed nozzle is not only more convenient, but safer as well. And that's hugely important to us."
Available in several popular colors and mildew resistant options, TruSil 100 is NSF-51 Certified, ensuring that it does not cause food borne illnesses when coming into contact with food and/or beverages - enabling it to be used in and around food processing and storage applications.
TruSil 100TruSil 100 meets ASTM-C920 performance criteria (+/- 25% joint movement), remains flexible at temperatures as low as -55°F (-48.3°C), and can withstand continuous exposure to temperatures up to 400°F (204.4°C), all while meeting low Volatile Organic Compounds (V.O.C.) requirements.
For more information regarding TruSil 100, please call the Everkem corporate office at 1-800-638-3160, or visit their site at www.everkemproducts.com/
About Everkem Diversified Products:Everkem Diversified Products specializes in the manufacture of top quality sealants, adhesives and specialty chemical compounds used for construction and industrial applications. Product lines include high temperature mortars, sealants, putties, and accessories used for firestopping and refractory applications; a variety of sealant technologies including latex sealants, silicones, insulating foam sealants, and state-of-the-art hybrid sealants; as well as specialty electrical chemicals. Headquartered in Winston-Salem, NC, the Everkem foundation is built upon innovative manufacturing capabilities, progressive product solutions and old fashioned personal service and customer support.
For more information about our products and capabilities visit our website at www.everkemproducts.com or contact us via phone at 1-800-638-3160.
Everkem Diversified Products
5180 Indiana Ave.
Winston Salem, NC 27106
Phone: 336-661-7801
Url: http://www.everkemproducts.com
Contact:
Matt Lowman
Marketing Manager
Email: marketing@everkemproducts.com
Contact This Company Download Spec Sheet
More from Adhesives & Sealants