Tube / Pipe / Hose Cutters and Cutting Machinery
Everite's New ACOM-1 Cutoff Machine Comes with Proprietary Cast Non-Conductive Base
Press Release Summary: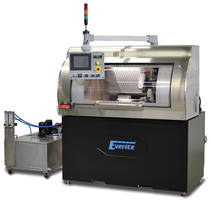 ACOM-1 Burr-Free ECG Automatic Tube Cutoff Machine comes with stainless steel work enclosure wit full view door window. Unit features spindle with speed ranging from 150 – 4000 RPM and 5 HP power. The system is equipped with quick-change fixtures, HMI pendant that allows operator to upload or download programs. Unit is available with capacity ranging from Ø0.012 in. to Ø1.500 in. and delivers cut length of 0.060 in. to infinity.
---
Original Press Release:
ACOM-1 Cutoff Machine, Everite's Latest Innovation in ECG, Released at MD&M West
Everite released the latest innovation in ECG Automatic Tube Cutoff Machines, the ACOM-1, at the Medical Device and Manufacturing – West, Trade Show in Anaheim, CA, in February. The ACOM-1 was exhibited and demonstrated on the floor at the Everite Booth.
The innovations of patent-pending programmable work clamping and proprietary cast non-conductive base with integral pan were a hit. Customers, upon request, were given rinsed and bagged samples of normal cut-to-length tubing, which exhibited ElectroChemical Burr-Free cutting.
Hypotube Cuttoff Demo
One customer requested to witness a set-up for a hypotube cutoff. Everites' own inimitable Service Manager Brian Read, (known to many as MacGyver), set up a cutoff operation using a hypotube 25-gauge cutoff fixture right in front of the customer and during the exposition.
Brian skillfully taught the customer some new techniques while demonstrating the ease of loading accommodated by the ACOM-1's Full Access/Full View vertical door. The process to setup, program, and cut 25-gauge hypotube took less than 20 minutes from scratch. The outcome was a very impressed and appreciative customer.
Everite enjoyed visitation by a record number of interested parties from North America, China, Japan, South Korea, Canada, Ireland and India.
Everite ECG Pointing System
The focus of the interest was on the ACOM-1, but there was also keen interest in the Everite ECG Pointing System. The Everite UG824 ECG Pointing System, which adds a fourth axis to the Everite UG824 ECG Grinder, provides a system to easily set up and point converting hypodermic tubing cutoffs to pointed cannula.
The cannula pointing process is an Electrochemical Burr-Free pointing of a linear array of many conforming to a customers' specification. The linear array size is proportional to the diameter of the hypotubing fitting into the 100mm platen. The servomotor/ballscrew-driven platen rotates all the tubing in unison to a specific angle where the X-axis and Y-axis coordinate the grinding of a facet in one pass on all the tubes. The process is repeated for as many facets are required. Developments by the Everite Technical Team render rotation angles greater than 180º readily applied on Back Bevel Cannula within ±1º with the Everite Electrochemical Burr-Free condition and without arcing as exhibited on competitors' products.
The Heel formation produced on the primary angle of the cannula by the electrochemical process is of particular interest as it may be electro-polished from a sharp uniform profile to a non-coring rounded profile. Specifications vary depending upon application; some require sharp heels and others require rounded heels – Everites' UG824 Pointing System may provide the conditions for either.
Slotting Systems
In addition to the Cutoff and Pointing systems, there was also keen interest in Slotting Systems. Everite offers standard configurations targeted for slotting applications, and may add additional axes and drives to provide access for features which are spaced far apart or to provide pockets of automation to increase capacity and throughput.
Trade Show Takeaways
The MDM-West 2018 trade show provided an opportunity for prospective customers to witness, review and asses the value they might bring to their manufacturing venue by considering addition of the Everite Automatic ElectroChemical Burr-Free Cutoff System ACOM-1. The trade show also offered the opportunity to meet the Everite personnel, and for good technical exchange and understanding.
Everite will expand its presentation in the coming year to include more machinery and process demonstrations at the exposition. Everite is the name for ElectroChemical Burr-Free process metal removal. Delivery, performance, service, and fair price continue to grow the business.
More from Chemicals & Gases