Evaporative Cooling Retorts suit raw product processing.
Press Release Summary: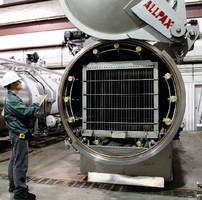 Providing automated monitoring and control, as well as extensive recipe flexibility, Evaporative Cooling Retorts offer solution for processing 3,200 lb batches or 50–800 gallon kettles of raw products. Since evaporative cooling consists of deaeration or removal of air from product, it not only cools, but also improves product quality and extends shelf life by slowing bacterial growth. Typical applications include potatoes, soups, sauces, fruits, chick peas, vegetables, and some meat products.
---
Original Press Release:

Allpax Now Offers Evaporative Cooling Retorts for Raw Product Processing



Allpax's evaporative cooling retorts for raw product processing provide companies with a turnkey, integrated retort solution for processing up to 3,200 pound batches or 50-800 gallon kettles of raw product.



COVINGTON, LA — Allpax Products, powered by Pro Mach, has developed retorts for evaporative cooling of large batches of raw product, which eliminates the transportation and refrigeration expenses of the traditional cooling process. The integrated retort solution provides automated monitoring and control, as well as extensive recipe flexibility. These retorts are enabling companies worldwide to respond to growing consumer demand for specialty food items such as hummus made from chickpeas and potato-based salads.



Advances in evaporative cooling

While evaporative or vacuum cooling has been used in the food industry for years, new technology has made the process more efficient and led to enhanced product quality, higher productivity, and reduced costs. Foods such as potatoes, soups, sauces, fruits, chick peas, vegetables, and some meat products are ideal for evaporative cooling since most of them can be cooked and cooled in a single vessel, which minimizes handling. Retort capacities can be sized for up to 3,200 pound batches of product or 50-800 gallon kettles, enabling large quantities to be processed easily. Furthermore, products can be taken directly from the field to a processing plant and cooled prior to distribution to foodservice outlets and retail stores.



When foods are cooked in traditional ways, they have to be transported to refrigerated rooms. These rooms take time to reach required temperatures plus additional handling and transportation time, all of which may adversely affect quality, texture, or appearance. Since evaporative cooling is the deaeration or removal of air from the product, it not only cools, but also improves product quality and increases shelf life by slowing bacterial growth.



Streamlined design

Allpax retorts for processing raw product are designed with orbiting doors, which lift up and out of the way so the retorts can be loaded easily. This also reduces the retort's footprint. The evaporative retorts feature double doors – one door is for the entry side and one for the exit side. A sealed partition is placed midway in the retort.



The product being processed is loaded into trays or baskets and placed in the entry side of the retort and the door is closed. Typically steam is used to heat the product, processing it to a given temperature. Once sterilized the food is conveyed to the cooling side of the retort. Evaporative cooling, which lowers the atmospheric pressure in the vessel, quickly evaporates the water off the product and cools it. Once the process is complete, the exit-side door is opened and the sterilized and cooled product is removed.



Allpax's integrated solution controls the vacuum ejector systems via a large valve on top of the retort and a transmitter that measures the vacuum and other inputs and outputs on specific valves. The control system integrates the outside components, allowing for the monitoring and modulating of the vacuum, temperature, and pressure to ensure that the user's desired outcome for the finished product is achieved. All the critical parameters are controlled by the Allpax control system, which features a 15-inch HMI color screen. The control system collects vital process data. Batch logs can be stored electronically and also printed.



"The big difference in these retorts is that evaporative cooling is now being used to process large batches of food products versus the old way of having to cook the product, remove it, and cool it in a specific way such as by air or a large refrigerator," said Greg Jacob, Vice President and General Manager, Allpax. "Simplifying the process reduces energy costs, eliminates transportation time, which is costly and can also impact product quality. Evaporative cooling also eliminates the need for costly refrigerator rooms that have a large footprint and are expensive to operate. Not only are companies recognizing that evaporative cooling is a much leaner way to process raw products, but they are also becoming aware of the advantages of working with a supplier that can provide a turnkey solution to meet their specific needs."



For information on Allpax evaporative cooling solutions, call 1-888-893-9277 and visit www.Allpax.com.



About Allpax Products          

Allpax Products, a market leader in retort technology and retort room automation, designs, manufactures, and delivers turnkey sterilization solutions for the food, beverage, pet food, and pharmaceutical industries. The company is recognized for helping customers become more successful by decreasing time to market with laboratory retort equipment, lowering overall labor costs through automation, and increasing the overall throughput of the sterilization process. www.Allpax.com



About Pro Mach

Pro Mach is a leading provider of integrated packaging products and solutions for food, beverage, household goods, pharmaceutical, and other diverse consumer and industrial companies. Through multiple business units and related brands, Pro Mach provides equipment, installation, training, parts, and service in bottling and capping, primary packaging, flexible packaging, identification and tracking, material handling, and end-of-line packaging.



Pro Mach has a diverse customer base, from Fortune 500 companies to smaller, privately held businesses worldwide, which depend on reliable, flexible, technologically advanced packaging equipment and integrated solution sets. Pro Mach is headquartered near Cincinnati, Ohio, with manufacturing facilities and offices throughout the United States and Canada. For more information about Pro Mach, visit www.ProMachInc.com.

More from Electronic Components & Devices