Evaporative Coolers run independently of water source.
Press Release Summary: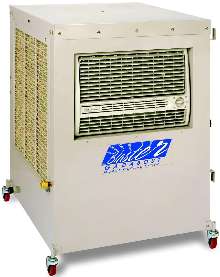 Mobile GadAbout series models M300, M400, and M500 utilize ½ and ¾ hp motors to spot cool exterior and interior applications. They incorporate Coolpad® evaporative media pads and 27-47 gal water reservoirs that provide hours of cooling. UL-listed products also offer external fill connector, recessed grill with 4-way directional air control, and externally located sump drain. Models M300, M400, and M500 models provide air delivery of 3,000, 4,000, and 5,000 cfm, respectively.
---
Original Press Release:
Essick Air Products, Inc. Is Pleased to Announce Improved Product Features to its Popular GadAbout Series of Mobile Evaporative Coolers
Essick Air Products, Inc. is pleased to announce improved product features to its popular GadAbout series of mobile evaporative coolers. The improved GadAbout series will be available in 2004 in three models - the M300, M400 and the M500 - designed for optimum portability and cooling capacity. The GadAbout spot cools exterior and interior applications such as garages, service stations, recreation areas, airports, sporting events, loading docks or anywhere spot cooling is needed. Key improvements to the GadAbout line include better airflow, improved cooling, large water capacity and a new parts warranty. The motors in GadAbout models M400 and M500 are larger at ½ HP and ¾ HP, respectively, and provide more airflow than previously built models. New Coolpad® evaporative media pads distribute water evenly across the pad for greater cooling capacity. The Coolpad® requires less maintenance and is longer lasting than other types of evaporative media. The large water reservoir ensures hours of cooling and is a safe alternative when a hose connection is dangerous or impractical providing an added safety benefit. All GadAbout models are backed by the best warranty on the market. A 5-year limited warranty on cabinet and a new 2-year warranty on parts is unmatched by similar products on the market. The M300 is 39-5/8" high x 31-1/2" wide x 21" deep with a 1/3 HP 2-speed motor and provides air delivery of 3,000 CFM. Its compact width easily fits through standard sized doors for maximum portability. The slightly larger, more vertical M400 model measures 41-1/8" high x 29" wide x 29" deep with a ½ HP 2-speed motor and provides air delivery of 4,000 CFM. The M500, measuring 39-5/8" high x 31-1/2" wide x 21" deep, provides the most cooling performance at 5,000 CFM with its ¾ HP 2-speed motor. Standard features of the UL listed GadAbouts include a large water reservoir, ranging in size from 27 to 47 gallons that allows the units to operate independently of a water source. This feature enhances portability and provides hours of uninterrupted operation. An external fill connector makes the GadAbouts adaptable to a water connection kit or garden hose for automatic fill. A recessed grill with 4-way directional air control and an externally located sump drain make the cooler easy to use. The re-circulating oil-filled submersible water pump ensures long lasting dependability. A unique 5-step electrostatic paint application provides a durable cabinet finish. The cabinet is backed by a 5-year limited warranty against rust out and the parts are backed by a 2-year limited warranty. All models feature a 20-foot cord with a GFCI safety plug. "Essick's improvements to the GadAbout make it the best product money can buy. Consumers can expect greater cooling comfort, hours of uninterrupted operation and long lasting performance from the GadAbout. Plus, all GadAbouts are backed by the best warranty on the market. Essick portable evaporative coolers represent the most comprehensive product line available on the market giving our customers the convenience of working with single source for their evaporative cooling product needs, " according to company spokesman, Jim Pettry. Essick Air Products, Inc. manufactures evaporative coolers under the Essick, Champion and Tradewinds brand names. All product brands are marketed nationwide. Essick Air Products, Inc., 5800 Murray Street, Little Rock, AR 72205, 501-562-1094 (phone), 501-562-9485 (fax), www.essickair.com (web).
More from Electronic Components & Devices