Evaporation Baskets promote line-of-sight coating.
Press Release Summary: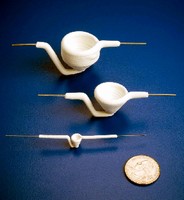 Available in 6 sizes with wire diameters from .020-.050 in., Alumina Coated Evaporation Baskets are internally heated crucibles that permit vacuum evaporation of several metals simultaneously, and maintain molten metals evaporants as induction propelled spinning ball within cavity. Units completely evaporate most materials such as gold, nickel, palladium, and silver without loss to chamber. Inside depths range from .225-.975 in. and top IDs range from .150-.900 in.
---
Original Press Release:

Alumina Coated Evaporation Baskets Promote Efficient Line-Of-Sight Coating



A line of alumina coated tungsten evaporation baskets used for the complete upward evaporation of metallic powders such as gold, nickel, palladium, and silver is available from Ceramic Coating, Inc. of Beverly, Massachusetts.

CCI Alumina Coated Evaporation Baskets are internally heated crucibles that permit the vacuum evaporation of several metals simultaneously and maintain molten metals evaporants as an induction propelled spinning ball within the cavity. Designed to promote efficient line-of-sight coating, these evapor-ation baskets are highly directional and completely evaporate most materials such as gold, nickel, palladium, and silver without loss to the chamber.

Available in six sizes with wire diameters from .020" to .050", inside depths from .225" to .975" and top I.D.s from .150" to .900, CCI Alumina Coated Evaporation Baskets can be matched to user requirements to reduce power consumption and precious metal costs. Ideally suited for research applications, the surface temperature of the crucible is approx. 1475°C.

CCI Alumina Coated Evaporation Baskets are priced from $25.00 to $80.00 each, depending upon size and quantity. Literature is available on request.

For more information contact:
Ceramic Coating, Inc.
William Dunn, Technical Marketing
60 River St.
Beverly, MA 01915
(978) 922-5141 FAX (978) 927-2819
e-mail: cci5141@aol.com
www.ceramiccoating.com

Related