Evans Company Engineers Custom Tips for Arthroscopic Probes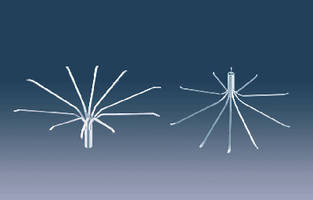 EAST PROVIDENCE, RI, Jan. 29, 2009 - The Evans Company, known for small and miniature deep drawn and progressive stampings in exotic alloys and stainless steel, has engineered an unusual tip for arthroscopic probes, using a variety of advanced metalworking techniques.

The tips are manufactured in 0.006" stainless steel sheet. Rectangular blanks are cut 0.825" long, then 10 narrow slits are cut parallel to the length of the blank. The unslit base of the blank is rolled into a closed tube. The slits are then bent outward in a heat-controlled atmosphere, forming an arrangement of probe tips with specific spring rate and contour. This results in a thin, lightweight probe that a surgeon can retract and expand for tissue manipulation. They are thin enough to fit in a narrow canula and conform to curved or irregular surfaces.

"The basic design can be modified to fit other applications. We can alter the quantity, length, contour and spring rate," said Pete Evans, president of the Evans Company. "We can create an assortment of shapes for different surgical situations."

The Evans Company also manufactures components for radiographic indication, implantation and electronic body cavity monitoring. Its deep drawn shells and progressive die stampings can be up to 2" long, with O.D.'s 0.045" to 7" and wall thicknesses 0.003" to 0.060". Evans, founded in 1928, is the world's leading manufacturer of precision tantalum parts.

"We have expertise in assisting in the creation of unique medical devices and instrumentation," he said. "That expertise includes both better ways to manufacture components, and ways to improve the devices with specialized materials selection."

For more information, phone Pete Evans at 401-434-6900 or email him at engineering@evanstechnology.com/.

More from Controls & Controllers