Evaluation Board provides 0.005° accuracy.
Press Release Summary: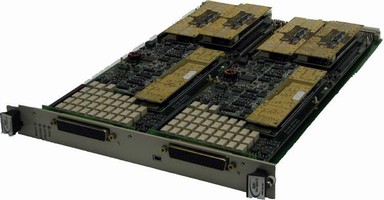 Designed for measurement and stimulus channels, Model 65CS4 C-size Synchro/Resolver VXI Instrument Card performs synchro/resolver evaluation, calibration and test functions on components, assemblies and systems. It incorporates internal wrap-around self-test function that does not require external hardware or software. With embedded-grade stimulus accuracy of 0.015, programmable board provides VXI data rate of 2 Mbps, dynamic address configuration, and 100 µsec data processing.
---
Original Press Release:

High-Accuracy and High-Density, Synchro/Resolver VXI Instrument Card Available



Up to 0.005° Accuracy Provided for Measurement and Stimulus Channels

Bohemia NY -- North Atlantic Industries (NAI) offers a high density, DSP-based, single slot VXI card whose modular design provides up to four synchro/resolver instrument-grade measurement channels and up to four synchro/resolver instrument-grade stimulus channels; or up to eight synchro/resolver embedded-grade stimulus channels; and up to six programmable reference supplies. All functions of the 65CS4 are independent, are user programmable for either synchro or resolver format, and may be formatted for single-speed or multi-speed applications. The unit also incorporates an internal wrap-around self-test function that does not require external hardware or software. Synchro/resolver instrument-grade measurement and stimulus accuracy is to within 0.005°. Embedded-grade stimulus accuracy is to 0.015°. Instrument stimulus and reference outputs provide 2.2 VA of drive and are programmable from 47 Hz to 10,000 Hz.

The 65CS4 C-size VXI card is a full-function instrument capable of performing most synchro/resolver evaluation, calibration and test functions on components, assemblies and systems. The stimulus channels can be programmed for continuous rotation up to 13.6 rps or for specific start and stop angles. The measurement channels can track signals up to 4.68 rps. Stimulus and measurement channels can be programmed for speed ratios of 2:1 through 255:1.

Measurement channels on the 65CS4 provide both digital and DC angle rate output signals. No adjustments or trimming are required on the unit. The card provides a VXI data rate of 2-megabytes/sec, dynamic address configuration, and 100 microsecond data processing.

The 65CS4 is available with an operating temperature range of 0°C to +50°C. Its power supply requirement is +5 VDC @ 8 A (no load). Pricing for 100 pieces starts at $10,000 each. Delivery is 8 to 10 weeks ARO.

"The 65CS4 gives our customers a programmable, multi-channel, synchro/resolver instrument on the popular VXI card platform" said Mike Oliveri, VP of Sales and Marketing at NAI. "They particularly like its high accuracy and resolution, high power output, and internal reference generators."

North Atlantic Industries

Founded in 1955, North Atlantic Industries (NAI), an ISO 9001:2000 certified enterprise, designs and manufactures Embedded I/O (Input/Output) Boards, Power Supplies, and Motion Simulation and Measurement Instruments for the Defense and Aerospace Industries. It provides the highest quality COTS (Commercial Off-the-Shelf) and Custom products in Commercial, Extended Temperature and Full-Military versions. NAI is focused on delivering innovation, quality, and superior value for its customers. Additional information about NAI and its products can be found at the company's Web site at www.naii.com.

Contact:
Frank Riccobono
North Atlantic Industries
631-567-1100
friccobono@naii.com

More from Architectural & Civil Engineering Products