Evaluation Board is based on ARM7 core microcontroller.
Press Release Summary: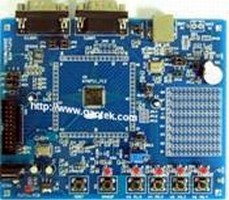 Based on STR711FR2T6 processor with on-chip 256+16 KB single voltage Flash memory and 64 KB high speed RAM, Model STDV711F enables evaluation of STR71x series of 32-bit 64-pin ARM7 core microcontrollers. It includes 2 SPIs, 2 IIC interfaces, and 4 UARTs serial peripheral interfaces, and HDLC, SC, and MMC interfaces. Measuring 135 x 108 mm, unit features -40 to +85°C working temperature, 12 MB USB 2.0 interface, 4-channel 12-bit A/D converter, and four 16-bit standard timers.
---
Original Press Release:

GAO Tek Inc. Has Launched a New STDV711F



GAO Tek Inc. Introduces a STDV711F .The STDV711F evaluation board is intended as a low-cost development platform to enable rapid evaluation of the STR71x series of 32-bit 64-pin ARM7 core microcontrollers from STMicroelectronics.

The STDV711F board is based on STR711FR2T6 microcontroller with on-chip 256+16Kbyte high-speed single voltage flash memory and 64Kbyte high-speed RAM. The STDV711F is a highly integrated microcontroller with an embedded ARM7TDMI core and is compatible with all ARM tools and software.

The STDV711F serial peripheral interfaces include 2 SPIs, 2 IIC interfaces, 4 UARTs, and HDLC, SC, MMC interfaces. The device provides a USB interface and a 4-channel 12-bit A/D converter, 4 16-bit standard timers, RTC (Realtime Clock), WDG (Watchdog) and enhanced I/O ports and supports JTAG with debug mode trigger request.

SPECIFICATION OF THE STDV711F :

o Dimensions : 135x108mm

o Working temperature : -40~+85 Celsius

o Processor : STR711FR2T6 with embedded 272k Bytes (256k+16k) FLASH memory and 64k Bytes SRAM memory

o Power input : +5.0V/1A

o USB2.0 full speed (12Mbs) interface

o UART0 and UART2 with 2 RS232 ports (can interconnect to each other for RS232 communication experiment)

GAO Tek Inc., a member of GAO Group, is a leading provider of embedded development tools, telecommunication testers, electronic measurement instruments, video surveillance, alarm and other electronic products that serve the needs of electronic professionals internationally. For further information, please visit www.GAOTek.com

GAO Tek Inc.

(416)-292-0038, ext 238

URL: www.gaotek.com

E-mail: asong56@126.com

Related