Evaluation Board integrates Ethernet MAC+PHY.
Press Release Summary: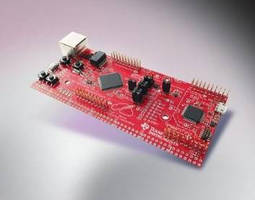 Based on TM4C1294NCPDT MCU, Tiva™ C Series Connected LaunchPad enables engineers to rapidly prototype wide range of cloud-enabled applications. On-board 10/100 Ethernet MAC+PHY provides advanced-line diagnostics for smart identification of cabling issues, while integrated CAN and USB provide high-speed connectivity, allowing creation of seamless gateway solutions. With 2 BoosterPack XL interfaces, designers can expand application reach with sensors, displays, and wireless modules.
---
Original Press Release:

Take Big Ideas to the Cloud with TI's Tiva(TM) C Series Connected LaunchPad, the first IoT-capable LaunchPad in the TI Ecosystem



Quickly connect to the Internet with easy-to-use, $19.99 evaluation tool based on Tiva TM4C1294 MCU with integrated Ethernet MAC+PHY



AUSTIN, Texas – Today, Texas Instruments (TI) (NASDAQ: TXN) announces the latest addition to its popular microcontroller (MCU) LaunchPad ecosystem - the Tiva™ C Series Connected LaunchPad. At $19.99, this Internet of Things (IoT), innovative platform enables engineers and makers to rapidly prototype a wide range of cloud-enabled applications, bringing expansive connectivity to any new or existing LaunchPad-based application.  The Tiva C Series TM4C1294NCPDT MCU on-board adds advanced Ethernet technology and the largest memory footprint available in the LaunchPad ecosystem. The robust performance and diverse peripherals on this platform can run multiple communication stacks simultaneously, allowing engineers to develop network gateways that can connect multiple endpoints to the cloud.  Example applications include sensor gateways, home automation controllers, industrial communication/control networks, cloud-enabled gadgets/appliances and anything you choose to connect - the sky's the limit!



Along with the on-board Ethernet MAC+PHY, significant analog integration and connectivity options, the Tiva C Series Connected LaunchPad contains two BoosterPack XL plug-in interfaces.  These interfaces allow designers to connect to a wide range of compatible BoosterPacks, providing the capability to expand application reach with sensors, displays, wireless modules and more.



Features and benefits of the Tiva C Series Connected LaunchPad:



--  Connect and communicate with products and services using on-board 10/100 Ethernet MAC+PHY with advanced-line diagnostics for smart identification of cabling issues. Integrated CAN and USB provide high-speed connectivity, allowing the creation of seamless gateway solutions.

--  Control outputs and manage multiple events, such as lighting, sensing, motion, display and switching, using sensor aggregation capabilities with 10 I2C ports, two fast accurate 12-bit analog-to-digital converters (ADCs), two quadrature encoder inputs, three on-chip comparators, external peripheral interface and advanced pulse-width modulation (PWM) outputs.

--  Use the on-board cloud solution to remotely interact with applications running on the Tiva C Series Connected LaunchPad(s).

--  Maximize the value of IoT applications with scalable cloud technologies and visual analytics. These enable designers to connect remotely through a web browser or custom application to manage the Tiva C Series Connected LaunchPad and real-time data.

--  Interconnect to standard breadboards for easy prototyping with the I/O grid array using industry-standard headers.

--  Regulate application power levels with on-board TI analog: TPS2052BDRBR (fault-protected power switch, dual-channel) and TPS73733DRV (3.3 LDO fixed out and 5V in).



Boost designs with available hardware and software offerings

A large ecosystem of BoosterPack plug-in modules allow various application extensions. Developers can use TI's SimpleLink™ Wi-Fi CC3000 BoosterPack, SimpleLink Bluetooth low energy CC2541-based BoosterPack from Anaren, as well as many other TI and third- party BoosterPack solutions.  Included with the Tiva C Series Connected LaunchPad is an extensive TivaWare™ software foundation with more than 50 accompanying software application examples, accelerating software development time and allowing developers to concentrate on delivering differentiated products to the market more quickly.



Get started today: Pricing and availability  

The Tiva C Series Connected LaunchPad (EK-TM4C1294XL) is available for $19.99 USD through the TI estore and licensed TI distributors.  Find compatible BoosterPacks on TI's BoosterPack page.  TivaWare™ software and TI's Code Composer Studio™ v.5 integrated development environment (IDE) are available for download today. Developers can access the TI Design Network, as well as find training and support on TI's E2E community.



Innovation is at the core of TI MCUs

Beginning with the foundation of leading process technology and adding unique system architecture, intellectual property and real-world system expertise, TI continues its 20+ years of MCU innovation with ultra-low-power MSP MCUs, real-time control C2000™ MCUs, Tiva™ ARM® MCUs and Hercules™ safety MCUs.  Designers can accelerate time to market with TI's ecosystem of tools, software, wireless connectivity solutions, extensive Design Network offerings and technical support.



About Texas Instruments

Texas Instruments Incorporated (TI) is a global semiconductor design and manufacturing company that develops analog ICs and embedded processors.  By employing the world's brightest minds, TI creates innovations that shape the future of technology.  TI is helping more than 100,000 customers transform the future, today.  Learn more at www.ti.com.



Trademarks

Tiva, TivaWare, Code Composer Studio, Hercules and C2000 are registered trademarks of Texas Instruments Incorporated.  All other trademarks belong to their respective owners.



CONTACT:

Leah Harris

Texas Instruments

(214) 567-0106

leah@ti.com

More from Cleaning Products & Equipment