Evaluation Board comes with Ethernet and audio module.
Press Release Summary: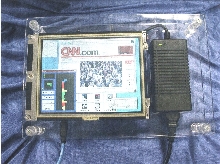 SAM-2104 StrongARM Demo Kit is built on Intel's StrongARM architecture, and measures 3 x 5 x 0.8 in. Its Intel StrongARM SA-1110 mini-BGA 256-pin module CPU operates at 206MHz. System memory is comprised of 32MB onboard SDRAM with storage provided by Compact Flash Type II socket. SAM-2104 has 1 USB port to support endpoints at 12Mbps (half-duplex) and 1 serial port UART that permits data transfer up to 230Kbps with low voltage TTL input and output.
---
Original Press Release:
SAM-2104 Intel(R) SA-1110 StrongARM Evaluation Board Demo/Development Kit with Ethernet & Audio Module

SAM-2104 Intel® SA-1110 StrongARM Evaluation Board
Demo/Development Kit with Ethernet & Audio Module

AAEON's new SAM-2104 StrongARM Demo Kit targets low-power multimedia and networking applications. This board is built on Intel's StrongARM architecture and is ideal for any hand-held application where portable battery power is a requirement.

The features of this convenient module are numerous even for its diminutive 3" x 5" x 0.8" size. The CPU is an Intel StrongARM SA-1110 mini-BGA 256-pin module operating at 206MHz. System memory is comprised of 32MB onboard SDRAM with storage provided by a Compact Flash Type II socket.

The SAM-2104 has both a USB port supporting endpoints at 12Mbps (half-duplex) and a serial port UART that permits high-speed data transfer up to 230Kbps with low voltage TTL input and output. Power input can come through the USB port to reduce wiring complexity.

In addition to the base features, this evaluation board comes with a plug-in module that provides both audio and Ethernet capabilities. The audio portion uses an UDA-134 1TS audio codec and a 300mW stereo audio amplifier. The Speaker-out and Line-in connections are made through 3.5mm mini-phone jack sockets. The
Ethernet portion of the daughter card comes with a CS8900 10Base-T controller and has an RJ-45 connector socket with integral Link and TX LEDs. Typically, the Demo Kit comes with a Sharp LM8V31 LCD panel using Linux as its operating system.

Even the power input circuitry has efficiency in mind. A high-performance step-down DC-to-DC regulator penmits a wide range of 4.5 to 14 volts DC input and supports a power management function. A jack for power input is provided.

The Demonstration Kit has pre-installed software on a Compact Flash module. Design information can be provided after purchasing the Development Kit Add-on so that developers can determine which StrongARM features are necessary for their particular application. This kit will allow developers to create and demonstrate their application. The SAM-2104 StrongARM Demo Kit and Development Kit Add-on by AAEON makes it easier to enter the low-power ARM applications market than ever before.

* Suiggested price is about $1,450 each for the Demonistration Kit
* Suggested price for the Development Kit Add-on is $3,695
* An Accessory package for the Demonstration Kit is also available for $125
Related