EV Charging Station provides full charge in 3-6 hours.
Press Release Summary: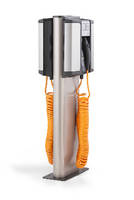 Available in single and dual configurations, 20 A/240 V Level 2 Pedestal-Mounted EV Charging Station includes built-in P/S GFCI protection with self-test feature, ground continuity monitoring to ensure proper grounding, and communication with vehicle to confirm electrical connections prior to charging. Auto reset features allows charger to re-try after minor electrical fault. Fixed on anodized aluminum Vista Architectural(TM) column, station is fully weatherproof with NEMA 3R rating.
---
Original Press Release:

Legrand/Pass & Seymour Announces the Commercial Availability of Its Level 2 Pedestal-Mounted EV Charging Station



WEST HARTFORD, Conn. - Legrand, the world specialist in products and systems for electrical installations and information networks, has announced the commercial availability of the newest addition to their range of electric vehicle chargers - the Level 2 Pedestal-Mounted EV Charging Station.

The ETL-certified 20A/240V Level 2 Pedestal-Mounted EV Charging Station is available in both single and dual configurations, which makes it perfect for installation at light commercial sites such as office parks, apartment complexes and shopping malls. It is currently available from Legrand/Pass & Seymour distributors throughout the USA and Canada.

"Making the Level 2 Pedestal-Mounted EV Charging Station commercially available provides unique business opportunities for all our North American distributors," said Pat Davin, Vice President and General Manager at Legrand/Pass & Seymour. "As the popularity and market awareness of alternative energy vehicles grows, all commercial sites will have to provide electric vehicle charging stations. Our pedestal model is perfectly positioned to take full advantage of all market opportunities."

The Level 2 Pedestal-Mounted EV Charging Station is fixed on a sturdy, anodized aluminum Vista Architectural(TM) column that provides support for both the single and dual charging station configurations. It is also fully weatherproof with a NEMA 3R rating and can be installed outdoors or indoors in covered parking/charging areas.

In addition, the Level 2 Pedestal-Mounted EV Charging Station provides a full charge in 3-6 hours and is compatible with all Plug-In Electric Vehicles. Critical safety features include built-in P&S GFCI protection with a self-test feature, ground continuity monitoring to ensure proper grounding, and communication with vehicle to confirm electrical connections prior to charging. It also has an auto reset feature that allows the charger to re-try after a minor electrical fault. This prevents lockout and low charge situations. It is also RoHS (Reduction of Hazardous Substances) Compliant and contains a 24-foot coiled cord for easy cord management.

Legrand/Pass & Seymour's other Level 2 EV Charging station is a wall-mounted unit. A Level 1 15A/120V portable charger that can be taken on the road is also available. It is also weatherproof for indoor or outdoor use, plugs into a standard 15A or 20A receptacle and includes built-in ground fault protection.

Connect with Legrand/Pass & Seymour on Facebook www.facebook.com/legrandna, Twitter www.twitter.com/passandseymour or www.twitter.com/legrandna, and YouTube http://www.youtube.com/legrandna

About Legrand

Legrand is the global specialist in electrical and digital building infrastructures. Its comprehensive offering of solutions for use in commercial, industrial and residential markets makes it a benchmark for customers worldwide. Named to Forbes'2011 list of the 100 Most Innovative Companies, Legrand believes innovation for a steady flow of new products with high added value is a prime vector for growth. Legrand reported sales of $5.7 billion in 2010. Legrand has a strong presence in the North American market, with a portfolio of well-known product lines that include Cablofil, Electrorack, On-Q, Ortronics, Pass & Seymour, Vantage, Watt Stopper and Wiremold. The company is listed on NYSE Euronext and is a component stock of indexes including the SBF120, FTSE4Good, MSCI World, ASPI. In 2010, Legrand was added to the European DJSI as well (ISIN code FR0010307819). www.legrand.us

More from Software