EUROCOM's Tornado F7SE Lightweight Out-of-the-Box Mobile Server Solution Runs Microsoft Server 2012R2, 2016 and 2019 On-the-Go! No Server Room Required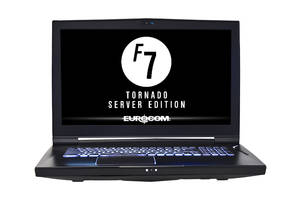 Mobile Server Overview
According to Wikipedia, a mobile server is a computer system that responds to requests across a computer network to provide, or help to provide, a network service, while being easily portable in a laptop form factor.
Since launching its first Intel Xeon-powered Mobile Server in 2007, the Phantom-X, Eurocom has been building on its capabilities and improving on the Mobile Server concept with every new iteration. The most advanced Mobile Server yet- the Tornado F7 SE- is the most stable, capable, scalable and durable solution to date from Eurocom!
"Mobile Servers allow users to expand into new geographic markets, gain new customers and secure new projects" Mark Bialic, Eurocom President.
Benefits of Mobile Server Technology
The EUROCOM Tornado F7 SE provides fast deployment right out-of-the-box, combined with easy relocation and no need for a server room. The ability to hand-carry the system makes the EUROCOM Tornado F7 SE an extremely easy system to relocate while providing server capabilities.
If a unit needs to be swapped out for any reason, simply grab and go. Most of the wiring required in rack mount scenarios vanishes with a EUROCOM Mobile Server.
Traditionally, taking a racked server to a customer's site is problematic, and even tower-style servers are considerably more cumbersome. A EUROCOM Tornado F7 SE solution simply slips into a notebook carrying case.
A racked system still requires a keyboard, mouse, and monitor, which are often placed on additional trays within the rack in order to minimize the total hardware footprint. With Mobile Servers, these peripherals are integrated.
Conventional servers require attendant UPS capability rated for at least 10 to 15 minutes of runtime before shutdown. With the EUROCOM Tornado F7 SE, the swappable polymer Li-Ion battery provides many times this amount.
The idea of a portable server is appealing to application developers, emergency responders, on-site trainers and others who need powerful computing solutions wherever they may be.
EUROCOM TORNADO F7 SE Core Features:
1. All-In-One Design: Integrated 17.3" LCD + Keyboard + Built-in UPS battery
2. Weight & Dimensions: 4.14 kg (9.1 lbs); 428 x 314 x24 -51mm (17.12x12.56x0.96-2.04-inches)
3. CPUs: Choice of LGA1151 CPUs; 6 cores/12 threads- (Xeon E-2176G, Xeon E-2186G, i7 8700, i7 8700K, i7 8086K); 8 cores/8 threads- (i7 9700K); 8 cores/16 threads – (i9 9900K)
4. Memory: up to 128GB DDR4 RAM via 4 x SODIMM slots (ECC and non-ECC Memory supported)
5. Storage: up to 22TB of total storage with 5 physical drives: 3 x M.2 NVMe SSD (up to 2TB per drive) and 2 x 2.5inch SATA3 drives (up to 8TB per drive)
6. RAID Options: RAID 0/1/5 with 3 NVMe SSD's ; RAID 0/1/5/10 with 5 drives
7. Operating Systems: choice of VMWare, Microsoft Server 2016, Microsoft Server 2012 R2, 2016, 2019 Data Center Edition, Windows 10 and Linux
8. Networking: 1GbE Intel RJ-45 Vpro supported; 2nd LAN adapter available via separate Thunderbolt 3.0 dock
9. Security: SmartCard Reader, TPM 2.0, BIOS Disk Encryption, Security lock, Fingerprint scanner; optional "anti-hacking package" available (removal of webcam, microphone and WLAN)
10. Ports: 1x Thunderbolt 3.0; 5x USB 3.1; Mini Display; HDMI 2.0; Mic-in; Headphone S/PDIF out; Line-in, Line out
11. Chassis: Heavy-duty, mechanical design via combination of aluminum alloy and German-manufactured resins.

Microsoft Server 2012, 2016 and 2019
With Windows Server 2012 and 2016, Microsoft integrated a wide range of innovations in its server operating system. In comparison with Windows Server 2019, the focus is now on improving these innovations and adding practical refinements.
The sixth release of Windows Server, Windows Server 2012 has added several features, such as an updated version of Hyper-V, an IP address management tool (IPAM), a new version of Windows Task Manager, Resilient File System (ReFS), Internet Information Services 8.0 and a redesigned and improve user interface in Task Manager.
Windows Server 2019 provides extra virtualization capability, allowing higher performance, low cost computing through virtualization on one platform. It allows for development of images of virtual machines and porting them to production servers. Hyper-V allows for network virtualization, multi tenancy and storage resource pooling.
Who Needs Mobile Servers?
Network administrators and other IT professionals benefit greatly from utilizing the EUROCOM Tornado F7 SE within their server environment because like most Eurocom systems, the EUROCOM Tornado F7 SE can be preconfigured even before it is shipped to the client. Local Network Managers simply have to plug in the Mobile Server at the client site and the server/VM is deployed immediately with little-to-no downtime. Whether it is for disaster prevention/recovery, redundancy, server or VM migration, the EUROCOM Tornado F7 SE is perfect for IT Managers who are looking to innovate their IT infrastructure, reduce bottlenecks and ultimately move away from the limitations of a traditional tower or rack-mounted server.
Major industries such as Aerospace, Military, Emergency Response firms, database developers, and many more Engineers and IT professionals requiring urgent server capabilities is the target demographic for the EUROCOM Tornado F7 SE. However, start-ups and other small to medium-sized businesses can also benefit from Eurocom mobile servers as it allows them to set up data centers and/or VM environments in temporary locations where the luxury of extensive wiring is not accessible or present. Professionals working with and running multiple VM's within their infrastructure can also take advantage of the EUROCOM Tornado F7 SE capabilities in order to seamlessly run, test and modify many different applications and VM's simultaneously.
"If your work is not confined to an office, why should your servers be confined to a room?"
Tornado F7 SE Resources:
a) Configuration options: EUROCOM Tornado F7 Server Edition
b) Images: EUROCOM Tornado F7 Server Edition

About Eurocom:
After 20 years of developing Mobile Servers, Eurocom continues this tradition by providing tools that give engineers, architects, developers and other digital content creators the ability to seamlessly run operating systems like: VMware, Windows Server 2016 Data Center Edition, Windows 10, Linux- just to name a few. The Tornado F7 Server Edition offers power users and engineers the performance, capabilities and portability of a laptop form factor without sacrificing the power and performance of a much bulkier, less energy efficient Tower or Rack-mounted server.
Eurocom is the leading developer of long lifespan, fully upgradable notebooks, as well as, high-performance mobile workstations and servers since 1989. Eurocom prides itself as an Industry leader in providing ground-breaking technology and continues to engineer innovative solutions that inspire individuals and companies to new growth and development. For more information on Eurocom please visit us at www.eurocom.com
Contact: Eurocom Newsroom
[email protected]
Dayne Apilado | Sales and Marketing Team | Love your Laptop | https://twitter.com/EurocomTech |613-224-6122|[email protected]