ETX Form Factor COM extends legacy applications, lifecycles.
Press Release Summary: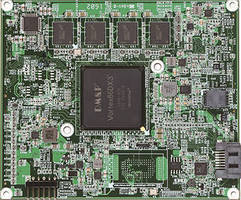 Based on Vortex86DX3 processor, PEM-E205VLA can run multiple applications securely and reliably on virtualization-optimized platforms. This ETX® 3.02 (95 x 114 mm) COM, which outputs <5 W for fanless applications and supports -40 to 85°C range, employs 32-bit multi-core processor technology and programmable GPU. Multiple connectivity and expansion options are available as well as dual display (VGA and LVDS) support and up to 2 GB DDR3 memory.
---
Original Press Release:

Portwell Releases ETX 3.0 Module to Extend Legacy Applications and Lifecycles



FREMONT, CALIF. – American Portwell Technology, Inc., (http://www.portwell.com) a wholly owned subsidiary of Portwell, Inc., a world-leading innovator in the Industrial PC (IPC) market and an Associate member of the Intel® Internet of Things (IoT) Solutions Alliance, today announces the release of the PEM-E205VLA, an ETX® 3.02 (95mm x 114mm) computer-on-module based on the Vortex86DX3 processor. The PEM-E205VLA ETX module delivers optimized value and service levels by running multiple applications securely and reliably on virtualization-optimized platforms.



Alongside of energy efficiency and legacy-interface support, the PEM-E205VLA is designed with powerful 32-bit multi-core processor technology and programmable graphics processing unit (GPU) compatible with Microsoft® Windows®-based, Linux® and many other popular 32-bit RTOS.



Efficient, Effective and Economical Solutions Using ETX Technology

When designing the PEM-E205VLA and its carrier board, Portwell applied the successful mother-daughter relationship of the highly-integrated computer-on-module ETX form factor, and came up with a compact, efficient and economical combination. The ultra low power Vortex86DX3 system-on-a-chip (SoC) is housed on the PEM-E205VLA module board and the development kit carrier board comes with all of the necessary connectors. In this way, Portwell is able to maximize ETX 3.02 technology to produce a unit that not only outputs under 5W for fanless applications, but also supports a wide -40ºC to 85ºC industrial temperature range, enabling faster and better integration with Portwell's best-in-class industrial solutions.



Furthermore, the PEM-E205VLA ETX module supports up to 2GB DDR3 memory, 32KB write through 8-way L1 cache, 512KB write through/write back 4-way L2 cache, PCIE bus at 2.5 GHz, ROM controller, ISA, I2C, SPI, IPC (Internal Peripheral Controllers with DMA and interrupt timer/counter included), Fast Ethernet, UART FIFO, USB 2.0 Host and IDE/SATA.



Expansion for the PEM-E205VLA ETX module includes ISA interface with controllers integrated into processor-enhancing capabilities to support 8/16-bit ISA device with Zero-Wait-State. In addition, the module supports dual displays, VGA and LVDS with greater graphic performance compared to its previous generation. The resolution for one display interface supports up to 1920x1440@60Hz with 234MHz video clock, and the other, 1920x1200, 1x DVO (24bits) and 1x D-SUB or 2x DVO (12bits x2). The GPU control unit integrated in the processor supports H.264 1080P video decode.



Design Services for Broad Applications

In the networks and automation sectors, safety with accuracy and precision are paramount. As the markets change, Portwell's versatile ETX modules adapt to these changes by enabling designers to partition commodity host-processors from proprietary baseboards, thereby minimizing current and future design risks during the initial phase of development. This design of separating the CPU-upgradable module from system specific I/O carrier boards further safeguards development investments and lowers total cost of ownership. In addition, Portwell can also provide services to clients on the carrier board design and development, review schematics and BIOS customization. At Portwell, we strive to create superior products for our customers.



Product details: http://www.portwell.com/products/detail.php?CUSTCHAR1=PEM-E205VLA.



Product availability: In addition to American Portwell Technology, Inc., the Portwell PEM-E205VLA ETX module is also available through Arrow Electronics, Inc. and Avnet, Inc.



About American Portwell Technology

American Portwell Technology, Inc., is a world-leading innovator in the embedded computing market and an Associate member of the Intel® Internet of Things Solutions Alliance. American Portwell Technology designs, manufactures and markets a complete range of PICMG computer boards, embedded computer boards and systems, rackmount systems and network communication appliances for both OEMs and ODMs. American Portwell is an ISO 9001, ISO 13485, ISO 14001 and TL 9000 certified company. The company is located in Fremont, California. For more information about American Portwell's extensive turnkey solutions and private-label branding service, call 1-877-APT-8899, email info@portwell.com or visit us at http://www.portwell.com.



All products and company names referred to herein may be trademarks or registered trademarks of their respective companies or mark holders.



Media Contact:

Susan Wei

Marketing Executive

American Portwell Technology, Inc.

510-403-3354

susanw@portwell.com



Product Contact:

Richard Chang

Product Manager

American Portwell Technology, Inc.

510-403-3332

richardc@portwell.com

Related