Ethernet Switch supports CompactPCI and VME platforms.
Press Release Summary: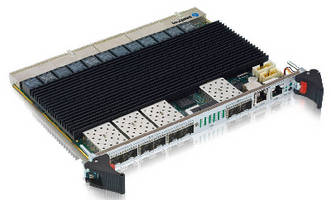 With 6 SFP+ interfaces for 10 Gb, 2 SFP interfaces for 1 Gb Ethernet switching on front, and 24 GbE ports on back, 6U Model CP6930 boosts performance of VME and CompactPCI systems. Non-blocking, fully managed L2/L3 switch supports PICMG 2.x and VITA 31.1 compliant switching, hot swap and routing capabilities, and field upgrades for software components. It offers AMCC PowerPC for individually configurable application control and microcontroller for IPMI-based platform management.
---
Original Press Release:

Kontron Brings 10 Gigabit Ethernet Switching to CompactPCI and VME platforms



Kontron CP6930 supports PICMG 2.x and VITA 31.1 compliant high-performance switching

Eching/Nuremberg, Germany, - The new Kontron CP6930 6U switch brings 10 Gigabit Ethernet switching to CompactPCI and VME embedded systems and communication networks.

With six SFP+ interfaces for 10Gb, two SFP interfaces for 1Gb Ethernet switching on the front and 24 GbE ports on the back, the new switch boosts the performance of VME and CompactPCI systems based on the latest processor boards for intra- and intercommunication. The non-blocking, fully managed L2/L3 switch allows system designers to stay ahead of the rising transaction and traffic loads in many embedded system designs and communication networks therefore maximizing the usage and longevity of their systems and reducing the TCO for customers' solutions.

The new Kontron CP6930 6U switch fits into both CompactPCI and VME (via the VITA 31.1 specification*) system chassis and offers unmatched price-to-performance ratio by implementing the highly integrated Broadcom single-chip switching solution. The CP6930 also offers an AMCC PowerPC for individually configurable application control and a Microcontroller for IPMI-based platform management. With the fully managed software environment and a comprehensive firmware package, the Kontron CP6930 is customizable based on the individual requirements of the installation. This enables the Kontron CP6930 to consolidate even the most complex data flow architectures into one system and simplifies the development of application-ready high-quality platforms so that system engineers can reduce time-to-market by focusing their development efforts on the customer's application. Vertical markets for serial-switched CompactPCI and VME hardware environments include storage networks (NAS, SAN), telecommunication networks (IPTV, VoIP, Mobile), wireless radio network controllers (Tetra) and high-speed servers for aerospace and military applications. High-end medical and automation platforms also benefit from a bottleneck-free 10 Gb environment.

The feature set in brief

The Kontron CP6930 hot-swappable CPCI switch serves 24 GbE ports to the backplane or rear transition modules and six high capacity SFP+ 10GbE links at the front for high speed inter- and intra-connects plus 2 SFP 1 Gb ports. Utilizing these interfaces not only enables systems to cascade, but also enables the latest Processor boards such as the Kontron CP6016 with the 10 Gbit Kontron XMC401 to be interconnected inside the system with highest bandwidth.

The Kontron CP6930 supports all relevant standards, L2 and L3 switching, VLANs and QoS as well as routing capabilities. It provides a fully-managed software environment and comprehensive firmware package with seamless integration into the shelf and its shelf management by IPMI V1.5. It also supports hot swap capabilities and reliable field upgrades for all software components. The Kontron CP6930 contains dual boot images with rollback capabilities during upgrades. The system may be managed via SNMP with standard MIBs and command line interfaces over Telnet, SSH or serial lines.

The new high-speed switch complies with PICMG 2.0 R3.0 specifications, PICMG 2.1 R.2.0 hot swap specifications, PICMG 2.9 R2.0 system management, PICMG 2.16 R1.0 and VME64x VITA 31.1 packet switching backplane, IPMI specification V1.5, and ANSI/Vita 47-2005 and supports Ethernet and bridging protocols such as flow control (IEEE 802.3x), spanning tree (IEEE IEE 802.1D, 802.1W), and link aggregation (IEEE 802.3ad). The Ethernet implementation also supports QoS (IEEE 802.1p, ACL and DiffServ) on all ports, as well as VLAN, including VLAN registration with GARP/GVRP (IEEE 802.1q).

The routing capabilities include OSPF, RIP and VRRP support as well as Multicast routing using PIM-SM, PIM-DM and IGMP. The CP6930 supports reliable, redundant operation with support for dual-star fabrics for both switching and routing functions. The services include onboard event management, test and trace facilities, power on the shelf diagnostics, and the persistent storage of configuration across restarts. It also supports the retrieving and installing of multiple configurations.

Availability

The Kontron CP6930 is available now.

More information about the Kontron CP6930: www.kontron.com/products/boards+and+mezzanines/6u+compactpci/network++switches/cp6930.html

More information about CompactPCI: www.kontron.com/CompactPCI

More information about VME: www.kontron.com/VME

*The Vita 31.1 specification is based on the PICMG 2.16 specification

About Kontron

Kontron, the global leader of embedded computing technology, designs and manufactures embedded and communications standards-based, rugged COTS and custom solutions for OEMs, systems integrators, and application providers in a variety of markets. Kontron engineering and manufacturing facilities, located throughout Europe, North America, and Asia-Pacific, work together with streamlined global sales and support services to help customers reduce their time-to-market and gain a competitive advantage. Kontron's diverse product portfolio includes: boards & mezzanines, Computer-on-Modules, HMIs & displays, systems & platforms, and rugged & custom capabilities. Kontron is a Premier member of the Intel® Embedded Alliance and has been a VDC Platinum Vendor for Embedded Computer Boards 5 years running. Kontron is listed on the German TecDAX stock exchange under the symbol "KBC". For more information, please visit: www.kontron.com

PR online: www.kontron.com/about-kontron/news-events/kontron+brings+10+gigabit+ethernet+switching+to++compactpci+and+vme+platforms.3836.html

Americas:

Richard Pugnier

Kontron

Tel: +1 (858) 623-3006

richard.pugnier@us.kontron.com

All rights reserved.

Kontron is a trademark or registered trademark of Kontron AG.

PICMG® and CompactPCI® are trademarks of the PCI Industrial Computers Manufacturers Group.

All other brand or product names are trademarks or registered trademarks or copyrights by their respective owners and are recognized.

All data is for information purposes only and not guaranteed for legal purposes. Subject to change without notice. Information in this press release has been carefully checked and is believed to be accurate; however, no responsibility is assumed for inaccuracies.

More from Electronic Components & Devices