Ethernet Radio offers complete access to network.
Press Release Summary: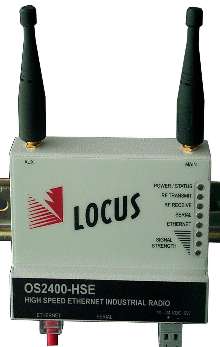 Model OS2400-HSE can simultaneously function as access point, bridge, and repeater radio. Any PC with PCMCIA card can access HSE network through single HSE radio, send and retrieve data from linked device such as PLC, and send data back to another Ethernet backbone. DIN rail-mountable radio operates in 2.4 GHz ISM band and features 20 mile range at greater than 10 MB/s. If radio loses link, it searches for alternate route to maintain connectivity.
---
Original Press Release:

The Locus OS2400-HSE Radio Access Point and/or Bridge and/or Repeater


Three Personalities Give You Complete Network Access!

Madison, WI February 13, 2004---- Locus, Inc. announces new functionality in its High Speed Ethernet radio, the OS2400-HSE. The HSE can function as an access point, bridge and repeater radio simultaneously. Because of this, an HSE customer has complete access to his network via an HSE radio.

Here's how it works. An authorized individual using any PC with a PCMCIA card can access an HSE network through a single HSE radio in the field (radio as an access point), can send and retrieve data from a linked device such as a PLC (radio as a bridge) and send that data back to another Ethernet backbone (radio acting as a repeater).

Ordinarily, it takes three radios to accomplish these three tasks. Because a single HSE radio performs all of these radio roles, a customer's data is transmitted using far fewer radios than one would expect in a typical network where radios have unique and separate roles. One radio, three roles = smaller investment.

The HSE is a natural choice for industrial customers using higher speed protocols and applications with large amounts of data requiring fast throughput or requiring shorter latencies. The HSE is well-suited not only for data transfer, but for video as well, making it a good choice for security camera applications. The HSE features a 20+ mile range at >10MB/s, however this range can be greatly extended with the use of repeater radios.

The HSE can perform one function today, and be programmed (in minutes by its owner) to perform another function tomorrow, which means there is never any wasted infrastructure with an HSE network.

The HSE features unique networking capabilities that will save customers the expense and hassle of maintaining redundant systems. A network of HSE radios is "self-healing;" if an HSE radio loses its link it will search for an alternate route to stay connected to the network. The HSE knows if it loses its link with its master, as well as the number of repeaters between it and the master, and will select its best option based on those criteria. In addition, multiple masters can be used. To duplicate this fail-safe functionality, other radio brands would have to run parallel, redundant networks. The HSE also offers customers a superb Windows® utility which shows a topographical representation of the customer's network and its health.
The HSE features robust authentication and WPA encryption far surpassing the security commonly available today in industrial radios, and has modes to allow connection to existing 802.11b access points or allow 802.11b clients to connect to it.
The HSE operates in the license-free 2.4 GHz ISM band, is DIN rail-mountable and features a rugged, metal enclosure with a profile depth of only 1.16 inches. Like all Locus industrial radios, the HSE features antenna diversity, extensive regulatory approvals and a 3-year manufacturer's warranty. All Locus industrial radios are backed-up with helpful, human support for the life of the radio.

Founded in 1979, Locus has designed, supplied, and supported the highest quality wireless communication products for major companies including Motorola, S&C Electric, American Meter Company, Alliant Energy and Adaptive MicroSystems. Locus has developed a full line of industrial radios that operate in the worldwide, license-free 2.4 GHz ISM band. Locus offers both serial and Ethernet radios, each having a superior combination of data rate, noise immunity and range, making them ideal for industrial and municipal applications such as building/factory/plant automation, SCADA, water/wastewater treatment, oil/gas, electric utility, power generation and distribution, agriculture and mining. Locus radios are industrial grade, shock and vibration tested, and able to withstand extreme temperature conditions. Every Locus radio is backed by a manufacturer's 3-year warranty and superior, complimentary customer support. You can learn more about radio technology and Locus' role in pioneering this exciting field by visiting www.locusinc.com.

More from Cleaning Products & Equipment