Ethernet Motion Controller includes USB 2.0 and RS232 ports.
Press Release Summary: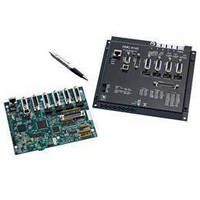 Operating standalone or via PC with Ethernet 10/100Base-T or USB, DMC-41x3 has 16 optically isolated I/O for 1-4 axis models and 32 I/O for 5-8 axis models. Each axis is configurable for stepper or servo motor operation. Also, 8 analog inputs are provided in addition to optically isolated forward and reverse limits and home input for each axis. Operated from 20-60 Vdc power source, unit has PID compensation, with velocity and acceleration feedforward, and various modes of motion.
---
Original Press Release:

Announcing Galil's DMC-41x3 Econo Motion Controller with Ethernet



Operates stand-alone or interfaces to a PC with Ethernet 10/100Base-T or USB

Rocklin, CA - Galil Motion Control's DMC-41x3 is the latest product in Galil's Econo series. The new product offers many enhancements compared to the prior Econo controllers including Ethernet 10/100Base-T, a USB 2.0 port, higher speed performance, larger program memory, analog inputs and optically isolated I/O.

The DMC-41x3 operates stand-alone or interfaces to a PC with Ethernet 10/100Base-T or USB. An auxiliary RS232 port is also provided. The product is available in one through eight axis formats, and each axis is user-configurable for stepper or servo motor operation. The controller can be connected with external drives of any power range or with Galil's multi-axis (500W per axis) servo drives or 60V, 3A microstepping drives. Galil drives install directly onto the DMC-41x3 controller.

Standard I/O of the DMC-41x3 controller includes 16 optically isolated inputs and outputs for the 1-4 axis models and 32 I/O for the 5-8 axis models. Eight analog inputs are provided in addition to optically isolated forward and reverse limits and a home input for each axis. Other controller features include PID compensation with velocity and acceleration feedforward, memory for user programs, multitasking for simultaneously running up to eight programs, and I/O processing for synchronizing motion with external events. Modes of motion include point-to-point positioning, position tracking, jogging, linear and circular interpolation, contouring, electronic gearing, ECAM and PVT.

The DMC-41x3 controller and drive package is 8.1 x 7.25 x 1.5 inch for the 1- thru 4-axis model and 11.5 x 7.25 x 1.5 inch for the 5- thru 8- axis model. It accepts power from a single 20-60V dc source. The DMC-41x3 is available as a card-level product or packaged in a metal enclosure.

Like all Galil controllers the DMC-41x3 controllers are programmed with Galil's intuitive, 2-letter command language.

Pricing for the 4-axis DMC-4143 controller is $1,495 US in quantity 1 and $995 US/ea in quantity 100.

More information on the DMC-41x3 Econo Motion Controller with Ethernet from Galil Motion Control can be viewed at-
http://electromate.com/products/series.php?&series_id=105360


More from Communication Systems & Equipment