Ethernet Modules are IP67-rated for harsh environments.
Press Release Summary: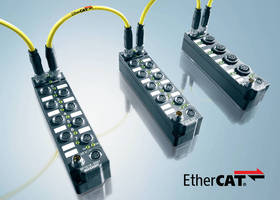 EtherCAT® Box I/O modules feature direct interface to EtherCAT, maximizing performance down to each I/O module. At 126 x 30 x 26.5 mm, units integrate stepper drive functions and resist moisture and dust in harsh environments. Connection is established via screened M8 screw connectors, with sensors and actuators also connected via screw-type M8 or M12 connectors. Communication via standard Ethernet cables permits networking of modules over distances of up to 328 ft.
---
Original Press Release:

Beckhoff Automation Announces EtherCAT IP 67 I/O Modules for Harsh Environments



EtherCAT Box: peak I/O performance in an extremely rugged and compact device

MINNEAPOLIS, March 31, 2009 - Taking high performance Industrial Ethernet I/O outside of electrical cabinets and onto machines, Beckhoff Automation has released EtherCAT® Box I/O modules. With this expansion of the Beckhoff Fieldbus Box family, EtherCAT I/O technology no longer needs to be installed in an electrical cabinet. All modules from this new IP 67-rated series feature a direct interface to EtherCAT so the system's high performance is retained down to each I/O module.

This opens up new possibilities in the "machine mount" IP 67 world: ultra fast data communication with eXtreme Fast Control technology (XFC), high-precision measurement technology and integrated stepper drive functions installed almost anywhere in the field. The EtherCAT Box modules are ideal for harsh industrial environments with excessive moisture and dust. With dimensions of only 126 x 30 x 26.5 mm (H x W x D) the modules are exceptionally small and are well-suited for applications where space is limited.

The new EtherCAT Box combines the design benefits of the highly robust Fieldbus Box modules with the top-level performance of the EtherCAT communication system. The EtherCAT connection between modules is established via screened M8 screw connectors. Sensors and actuators are also connected via screw-type M8 or M12 connectors as required. Beckhoff Automation offers a cost-effective assortment of these and many other connectors for optimized cabling. Communication via standard Ethernet cables permits networking of the EtherCAT Box modules over distances of up to 100 m (328-feet).

The EtherCAT Box modules cover the traditional range of requirements for IP 67 I/O signals: digital inputs with different filters (3.0 ms or 10 µs), digital outputs with 0.5 or 2 A output current, analog inputs and outputs with 16 bit resolution, thermocouple and RTD inputs, and stepper motor modules. Modules with time stamp inputs are also available for XFC.

EtherCAT® is a registered trademark of Beckhoff Automation.

Beckhoff Automation® provides advanced, open automation products based upon proven technologies so that customers can implement high performance control systems faster and at a lower overall cost than traditional PLC and motion control systems. Beckhoff's "New Automation Technology" product range includes PC based control, industrial PCs, automation controllers, operator interface, I/O, servo drives and motors. With representation in more than 60 countries, Beckhoff is well positioned to provide global sales and service to its customers. Sales and service are handled directly, with no intermediaries involved to provide faster response and improved communications.

Please send readers' questions regarding "Beckhoff EtherCAT Box" to:
Beckhoff Automation LLC

12150 Nicollet Ave. S

Burnsville, MN 55337

Phone: 952-890-0000

Fax: 952-890-2888

e-mail: beckhoff.usa@beckhoff.com

www.beckhoffautomation.com

Media contact:

Shane Novacek

Beckhoff Automation

Phone: 952-808-6515

s.novacek@beckhoff.com

More from Adhesives & Sealants