Ethernet Module connects drives to Internet.
Press Release Summary: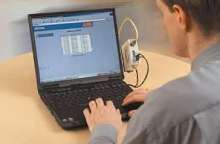 NETA-01 Ethernet Module works with any ABB drive that provides fiber optic link, communicating via standard web browser. It enables remote monitoring, configuration, diagnostics, and, when needed, control. Via link, drive can provide process-related information, such as load level, run time, energy consumption, and I/O data. Intelligent module has embedded server with all necessary software for user interface, communication, and data storage. Full array of protocols are supported.
---
Original Press Release:
Ethernet Module Makes Drive Alert To Operator Easy As An E-mail (Full Array of Protocols Supported Via the New Module)

NEW BERLIN, Wis., March 13, 2003 . . . Receiving an e-mail alert from your motor drive system is now possible, thanks to a new intelligent Ethernet module from ABB, which connects drives to the Internet. Called NETA-01, the Ethernet module works with any ABB drive that provides a fibre optic link, communicating via a standard web browser.

Alert In; Control Out ?

"This tool can be a key for operations in remote locations, such as oil fields and pumping or manufacturing processes, that depend on 24/7 uptime for maximum production," according to Steve Weingarth, application engineering manager for ABB Inc., Automation Technologies, Drives, Motors & Machines. "The alert, regarding any critical drive functions, arrives to any point where you monitor your e-mail."

Or, operators can check quickly the performance of any given drive/motor. The module gives simple, real-time access, and users can set up a virtual monitoring room wherever there is a PC with an Internet connection. This enables remote monitoring, configuration, and diagnostics; and, when needed, control. Via the link, the drive also can provide process-related information, such as load level, run time, energy consumption and I/O data (such as bearing temperature of the driven machine, for example).

The intelligent Ethernet module has an embedded server with all the necessary software for user interface, communication and data storage. "The two-way communication with the drive enables immediate response and actions, which saves time and money," notes Weingarth. And it saves having to travel, physically, to the actual drive location with PC in hand, which is required by many other remote solutions, he noted.

Tool Enables Support of Installed Motor Controls --

The module also can be programmed to send alerts that are triggered by a variety of operating conditions, with the alerts reaching predefined e-mail addresses. This opens new possibilities for monitoring and maintenance of unmanned applications across a range of industries, such as water/wastewater, wind power, building services, and oil & gas. The module also is ideal for decentralized applications where the user needs access to the drives from more than one location. OEMs and system integrators, via the tool, also can support globally their installed base of motor controllers.

Up to nine drives can be connected to the intelligent Ethernet module. It is available as an option for new drives, as well as an upgrade for existing systems.

Ethernet allows the integration of both process and office environments into a global network. The module supports the usual HTTP, IP, TCP, SMTP, BOOTP, UDP, Telnet, FTP, and Modbus/TCP protocols. Access to the module is secured by a user ID and passwords. Multiple security levels enable the allocation of different access rights to normal users and administrators. Even higher levels of security can be achieved using a Virtual Private Network (VPN) connection.

The module is mounted onto a standard mounting rail inside or outside the drive unit, depending on drive type and configuration. It connects to the drive with fibre optic cables. The size of the module is 4 inches (h) x 1.5 inches (w) x 3 inches (d).

The IP address of the Ethernet module can be freely allocated. The user interface with the drive is created using embedded Java applets. The web page of the module is opened like any other web address. The home page shows a general overview of the system with traffic lights and action buttons to guide the user through the different sections.

ABB Inc., Automation Technologies, Drives, Motors and Machines, is the world's largest manufacturer of electric motors and drives. In the USA, an integrated channel of sales representatives, distributors, and system integrators allow ABB, New Berlin, Wisconsin, to supply a complete line of energy-efficient electric drives, motors and engineered drive systems to a wide range of industrial and commercial customers. Products manufactured include AC variable speed drives for electric motors from 1/8th through 135,000 HP, large AC machines and drives, medium-voltage drives, power electronics and rectifier systems, AC & DC motors, and application-specific drive system solutions to meet diverse customer needs (http://www.abb-drives.com).

ABB (www.abb.com) is a leader in power and automation technologies that enable utility and industry customers to improve performance while lowering environmental impacts. The ABB Group of companies operates in more than 100 countries and employs about 139,000 people worldwide. The company's U.S. operations employ more than 14,000 people in manufacturing and other facilities in 40 states.

ABB Fieldbus Contact:

Steve Weingarth

262-785-3564 phone

262-785-8501 fax

steve.weingarth@us.abb.com
More from Agricultural & Farming Products