Ethernet Isolators safely connect process field devices.
Press Release Summary: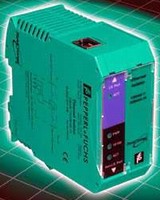 Combining intrinsically safe energy limitation and galvanic isolation, FieldConnex® Ethernet Isolators enable high-speed data devices located in hazardous locations to be connected directly to standard Ethernet line. Products also allow for back-to-back, pass through applications without requiring any separate hardware. PCB-mounted version allows OEM to seamlessly integrate intrinsically safe Ethernet into their own equipment.
---
Original Press Release:

Intrinsic Safety Ethernet Isolators Facilitate Real-Time Accessibility to Process Field Devices via Ethernet



Hazardous location applications can now benefit from data transmission over a standard Ethernet line - without costly special solutions

TWINSBURG, OH - Pepperl+Fuchs introduces intrinsic safety FieldConnex® Ethernet Isolators. These galvanically isolated Ethernet Isolators allow users, for the first time ever, to connect high-speed data devices located in hazardous location applications directly to a standard Ethernet line. They also allow for back-to-back "pass through" applications - all without requiring any separate hardware. Original Equipment Manufacturers can benefit from Pepperl+Fuchs expertise with a specialized PCB-mounted version that allows the OEM to seamlessly integrate intrinsically safe Ethernet into their own equipment.

FieldConnex Ethernet Isolators combine intrinsically safe energy limitation and galvanic isolation into one product. The isolator can be installed in a safe area, or in a Zone 2 or Zone 1 area when housed in a suitable enclosure. Two isolators must always be used together, as combining the isolators creates an intrinsically safe link that can be routed through a Zone 0 or Zone 1 hazardous area.

"Pepperl+Fuchs envisions the future of intrinsic safety as being tied to the ability to reduce the amount of field wiring coming from the hazardous area, decreasing installation and commissioning time, while increasing process system integrity. In keeping with that vision, we collaborated with leading innovators in the oil extraction field to develop this truly unique intrinsically safe Ethernet isolator that represents a quantum leap forward in providing infrastructure and installation technology for hazardous area applications," says Robert Schosker, Pepperl+Fuchs Product Manager.

The device makes Ethernet cable installation intrinsically safe by limiting the energy that can be delivered from the non-hazardous to the hazardous area, while still allowing full Ethernet communications data to pass through a device. Galvanic isolation eliminates equi-potential bonding and solid grounding between the area of installation and the connection point in the hazardous area. Additionally, combined with safe energy limitation, galvanic isolation eliminates the need for expensive and inflexible hazardous area conduit applications. This new category of Ethernet isolators is compatible with all IEEE standards, and provides high noise immunity and low heat dissipation in a compact housing.

As FOUNDATION(TM) fieldbus systems are increasingly relied upon to increase system integrity and provide useful diagnostic tools for commissioning and preventative maintenance, users have been seeking faster data transmission rates and more information from their field devices. Ethernet is seen as the path forward as a result of its reliable and secure digital communication, very high transmission rates of up to 100 MB, and the ability to transfer large packets of information.

About Pepperl+Fuchs
Pepperl+Fuchs has over 3,400 employees in more than 30 countries and is a world leader in the design, manufacture, application and support of a broad range of automation solutions. Pepperl+Fuchs is the market leader for intrinsic safety interfaces and hazardous location equipment. Our FieldConnex® fieldbus installation system for Profibus and FOUNDATION fieldbus provides maximum flexibility to modern process automation applications. Additionally, P+F's BEBCO EPS purge & pressurization system provides rugged protection for any type of instrumentation. This comprehensive range of explosion protection systems and interface equipment is complemented by technologies such as EXTEC visualization & operation systems, as well as on-line corrosion monitoring transmitters and level sensing instruments.

Pepperl+Fuchs, 1600 Enterprise Parkway, Twinsburg, OH 44087; (330) 486-0002; fax: (330) 425-4607; pa-info@us.pepperl-fuchs.com; am.pepperl-fuchs.com.

More from Communication Systems & Equipment