Ethernet/IP Module operates via ladder logic.
Press Release Summary: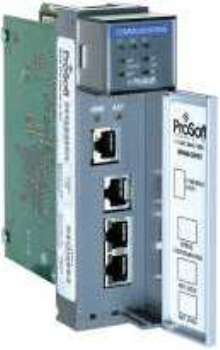 Model MVI46-DFNT in-chassis module connects Allen-Bradley SLC 5/02, 5/03, and 5/04 processors with Ethernet/IP networks. Pass-through port on module redirects DF1 master messages to Channel 0 port on processor, allowing remote programming over Ethernet. Email report generation allows user to receive e-mail with dynamic data for production reports directly from SLC. Data transfer from SLC processor is asynchronous from actions on EtherNet/IP network.
---
Original Press Release:
ProSoft Technology, Inc Brings EtherNet/IP Connectivity to Allen-Bradley 5/02, 5/03 and 5/04 Processors
This in-chassis EtherNet/IP solution maintains control strategy without costly processor replacement. BAKERSFIELD, Calif., June 1, 2003 The ProSoft Technology, Inc. MVI46-DFNT is the ideal solution for connecting Allen-Bradley SLC 5.02, 5/03 and 5/04 processors with EtherNet/IP networks. This powerful in-chassis module offers many features and benefits including: o Cost effective single slot solution o Operates via simple ladder logic, requiring no special software o A pass-through port on the module redirects the DF1 master messages to the Channel 0 port on the processor, allowing remote processor programming over Ethernet o Email report generation allows users to receive e-mail with dynamic data for production reports directly from the SLC based on user defined database trigger values o E-mail client can generate custom or built-in email messages to any valid user or group of users on the network o Optimize SLC5/05 EtherNet/IP data throughput while communicating with MMI or SCADA and other control platforms. Program over the MVI46 channel without losing valuable process control bandwidth. o FTP server permits remote file transfer between the module and a remote host The MVI46-DFNT module acts as a gateway between the EtherNet/IP Explicit Messaging, TCP/IP network, and the Allen-Bradley backplane. The data transfer from the SLC processor is asynchronous from the actions on the EtherNet/IP network. A 4000-word register space in the module is used to exchange data between the processor and the EtherNet/IP network. Five independent server connections permit remote clients to interact with all data contained in the module. The MVI46-DFNT modules come with ProSoft's 1-year warranty and unlimited technical support. Sales are available worldwide; contact your automation equipment distributor or ProSoft Technology. For information on MVI46-DFNT call 661-716-5100, email prosoft@prosoft-technology.com or visit prosoft-technology.com/prodinfo.cfm?pid=404. For additional information about ProSoft Technology and its products, visit www.prosoft-technology.com
More from Electrical Equipment & Systems