Ethernet I/O Server supports standard Modbus protocol.
Press Release Summary: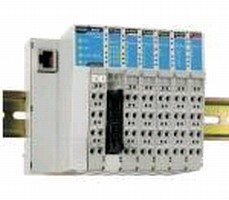 Able to receive data from up to 8 computers for data sharing, ioLogik 4000 Ethernet Network Adapter reads sensor data, on/off status, and control on/off status of devices remotely over Ethernet network. It can connect up to 32 I/O modules, which is equivalent to 512 DI/O points or 128 analog input channels. Over 40 types of I/O modules are available, including 24 Vdc, 48 Vdc, 110 Vac, and 230 Vac DI/O modules, and 0-20 mA, 4-20 mA, and 0-10 V analog I/O modules.
---
Original Press Release:


Ethernet I/O Solutions from MOXA




Moxa Technologies is introducing ioLogik 4000 (Ethernet I/O Server), which is designed to read sensor data, on/off status, and control on/off status of devices remotely over an Ethernet network from a host computer. Support for standard Modbus protocol makes ioLogik 4000 compatible with most SCADA software, such as Intellution iFix, Wonderware, and Labview. One ioLogik Ethernet Network Adapter can connect up to 32 I/O modules, which is equivalent to 512 DI/O points or 128 analog input channels. Over 40 types of I/O modules are available, including 24 VDC, 48 VDC, 110 VAC, and 230 VAC digital input/out modules, and 0-20 mA, 4-20 mA, and 0-10V analog I/O modules. Special temperature sensor modules are also available, including models with RTD (PT100) and thermocouple sensors.

ioLogik 4000 is certified by PLC-grade safety regulation UL508. In addition, the digital output modules provide short protection, as well as over-current/temperature protection. The safety status is user configurable for digital output and analog output modules in case communication with the computer is interrupted.

Each Ethernet Network Adapter can receive data from up to eight different computers on the network for data sharing. For Windows programming, the intuitive MXIO DLL programming library is available for users of Visual Basic, Visual C++, and Borland C++ Builder.

Key Features
o Remotely acquire sensor data and control I/O points via Ethernet (RS-485/232 available)
o Easy-to-use Windows utility for remote management
o Easy-to-use DLL library for VB, VC++, BCB
o More than 40 I/O types of modules
o Expandable up to 32 modules for a maximum of 512 DIO points or 128 analog channels
o Modular package for fast swap and maintenance
o Standard Modbus/TCP/RTU/ASCII, and compatible with most SCADA software

Moxa Technologies is part of the Moxa Group, a conglomerate that manufactures device networking products for industrial automation. Information about all Moxa products, which include industrial Ethernet switches, serial device servers, multiport serial cards, and embedded device servers, is available on the Moxa Group's corporate website at www.moxa.com. You may also contact Moxa Technologies directly by email at [email protected], or by phoning +886 (2) 8919-1230