Ethernet Fiber Converters feature low power consumption.
Press Release Summary: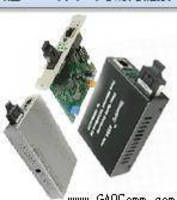 Supporting transmission in dual-fiber multi-mode, dual-fiber single-mode, and single-fiber single-mode fibers, intelligent adaptive fast Ethernet fiber converters conduct mutual conversion between 10Base-T/100Base-TX pair electrical signals and 100Base-FX optical signals. They feature low heat dissipation and are suited for use in 10/100 Mbps fast Ethernet long-distance transmission networks. Models include MA830A, MA830AC, MA830ACS, MA830AP, MA830APS, and MA830AS.
---
Original Press Release:

Intelligent Fast Ethernet Fiber Converter Series from GAO



Toronto, Canada-GAO Comm (www.GAOComm.com) announced its release of a series of intelligent adaptive fast Ethernet fiber converters for optical-to-electrical medium conversion. The fiber converter series is designed to perform flow control, to reduce broadcast packets and ensures convenient network upgrading. They are especially useful in 10/100Mbps fast Ethernet long-distance transmission networks.

This fast Ethernet fiber converter series extends the transmission distance of networks and conducts mutual conversion between 10Base-T/100Base-TX pair electrical signals and 100Base-FX optical signals. With applications including switching, storing and forwarding technology, each member of the fiber converter family implements data transmission between optical and electrical network connection media.

GAO's fiber converters support transmission in dual-fiber multi-mode, dual-fiber single-mode and single-fiber single-mode fibers. In addition, the fast Ethernet fiber converters feature low power consumption, low heat dissipation and are capable of stable operation for a long period of time.
GAO's 10/100Mbps adaptive fast Ethernet fiber converter series has the following models: MA830A, MA830AC, MA830ACS, MA830AP, MA830APS and MA830AS.
For further information about GAO's fast Ethernet fiber converter series, please refer to www.GAOComm.com or contact Sale@GAOComm.com.

About GAO Comm

GAO Comm is an international leading provider of communication test instruments and equipment and devices that serve the needs of communication infrastructure, installation and maintenance.

GAO Comm is a member of GAO Group, which also includes

o GAO RFID Inc. - www.GAORFID.com
o GAO Tek Inc. - www.GAOTek.com
o GAO Research Inc. - www.GAOResearch.com
o GAO RFID Asset Tracking - www.GAORFIDAssetTracking.com
o GAO Embedded - www.GAOEmbedded.com
o GAO Instruments - www.GAOInstruments.com
o GAO Fiber Optics - www.GAOFiberOptics.com

Company Name: GAO Comm
Country: CANADA
Phone: 416-292-0038
URL: www.GAOComm.com

More from Agricultural & Farming Products